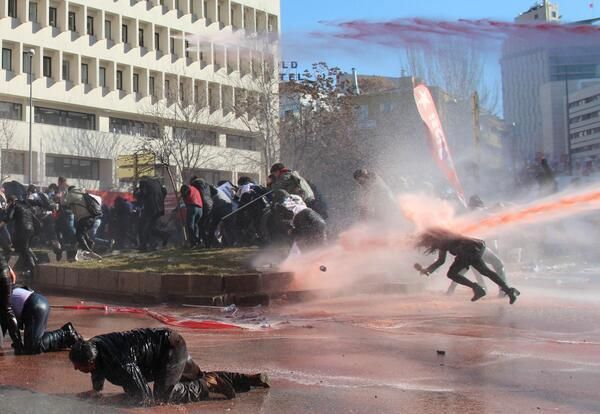 "Water cannons" against a peaceful demonstration
Turkish journalist was hurtled by the pressure
By Manolis Kostidis Ankara
Harsh intervention of the Turkish police against 3000 demonstrators in Ankara. Policemen attacked the demonstrators who were trying to protest peacefully, using water cannons from armed vehicles. The images shown by the turkish mass media show journalists and demonstrators falling down the water pressure.
Police officers turned against the journalist of the television network Halk TV, Husna Sari, who was trying to cover the episodes, with a "water cannon", despite the fact that it obvious she was holding a microphone.
Images from television networks show her and many other demonstrators being literally hurtled away by the "water cannon" pressure. The demonstrators that were near the Parliament wanted to protest for the long duration of the remand of those accused in the trials for Bayloz and Ergenekon. Their slogans as it seemed did not appeal to the police officers, since they were saying "Erdogan thief" and "we are Kemal Ataturk's soldiers".
Sari discribed exactly what happened and pointed out that "I was in the demonstration to capture and convey the facts and I was amongst the demonstrators. When the police attack began I showed them my microphone, but they still attacked me with the armed police vehicles. I feel down from the water pressure. When in tried to stand up again, they hit me".
The television network's cameraman was injured in the eye. The turkish mass media report that two other journalists were injured. According to information, many demonstrators were injured by the violent police intervention to this peaceful demonstration.
The violent response of the turkish police in Gezi park, on June 2013, in Istanbul had resulted in the violent demonstrations that followed for three weeks in Turkey, during which 5 people were killed and thousands of others were injured.