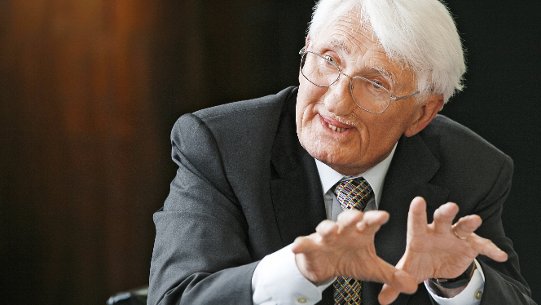 Athens, July 17, 2015/ Independent Balkan News Agency
By Spiros Sideris
Jürgen Habermas, one of the leading European intellectuals and proponents of European integration, launched a harsh attack on German Chancellor Angela Merkel and her government, arguing that with the harsh stance towards Greece and its decision to "punish" the government of Alexis Tsipras "they played and lost in one night" all the painstaking efforts of entire generations to rebuilt the reputation of Germany in Europe.
"I fear that the German government, including the social democratic wing, played and lost overnight all the political capital that a better Germany had been accumulating for half a century" by showing "greater political sensitivity and post-national culture", Habermas said in a statement to the British newspaper Guardian.
Germany "shamelessly presented itself as the force that imposes the discipline in Europe and for the first time claimed the German hegemony in Europe", said the 86-year old Habermas, noting also that the EU is caught in the grip of a "political trap".
The outcome of the negotiations between Greece and the other euro zone member states "does not make sense in economic terms, due to the toxic mix of necessary structural reforms in the state and the economy with further neoliberal imposed measures that will render Greeks completely exhausted and kill any developmental momentum".
Habermas said that the balance between "politics and the market" has been overturned, with the victim being the "welfare state".