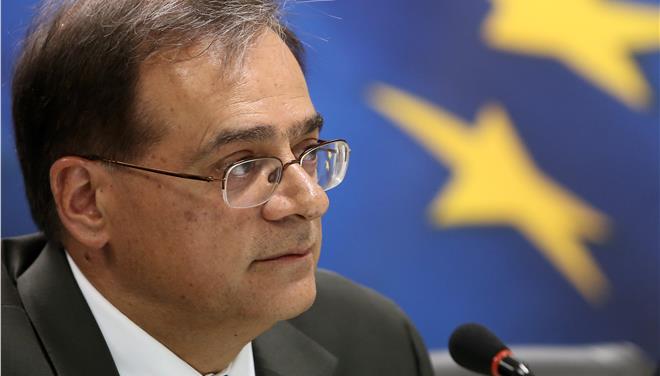 Athens, June 9, 2016/Independent Balkan News Agency
By Spiros Sideris
SYRIZA attacked the president of former president of Democracy and former Prime Minister Antonis Samaras, after an interview of the former minister of Finance, Gikas Hardouvelis, who admitted that the negotiation with the lenders was deadlocked and that for this year the target was a surplus of 4.5%.
Speaking to "Vima FM", Mr Hardouvelis said the assessment would have closed only with the above surplus target, which would have translated into new tax collection measures and painful cuts.
"Indeed, the context of 2014 was quite strict. Is was talking in 2016 to have a surplus of 4.5%. Our goal was then to close the evaluation. We did not want to bring it to the table since then. We wanted to reduce it from 4.5%, to bring it to 3%. We believed that the economy could withstand (40%) it with the growth rates that we wanted to have", said the former Finance Minister.
When asked whether the lenders would have accept he replied: "They would have accepted. We could not put it on the table in 2014, because we would lose credibility. We had the IMF with us. We would brings it to our side and they would have accepted, I believe".
Attack from SYRIZA
"In a few words, G. Hardouvelis broke the myth of the success story of the previous government that Antonis Samaras was systematically cultivating and which K. Mitsotakis continues to cultivate", SYRIZA says and notes that he admitted that the agreement he was the then government was negotiating with the lenders in order to complete the fifth evaluation of the second memorandum wasn't close to a conclusion!"
More specifically, as noted by SYRIZA, G. Hardouvelis admitted that, although the surplus of 4.5% demanded by lenders for 2016 could not be reached, the Samaras government was ready to accept it, bringing even harsher measures, in order to close the evaluation.
"The cynical confession G. Hardouvelis is indicative of the policy implemented by ND and PASOK. Allegiance to the most extreme demands of creditors, barbaric measures and impoverishment of the Greek people", SYRIZA says and underlines that "is was these outrageous primary surpluses of the Samaras government that SYRIZA managed to reduce by canceling 20-billion worth of measures through a tough and persistent negotiation for the country's interests".