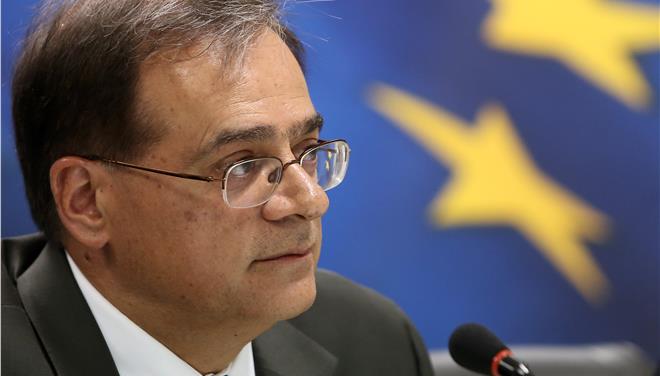 By Lefteris Yallouros – Athens
Greek Finance Minister Gikas Hardouvelis outlined the government's new economic dogma ahead of crunch talks with troika auditors in September that will be followed by the commencement of negotiations with EU partners on debt relief.
In an article for the Sunday edition of Kathimerini, Hardouvelis outlined the key points of a "National Growth Plan". The plan includes policies to stimulate growth of a host of sectors including tourism, agriculture, energy, logistics & shipping, pharmaceuticals, metals & construction materials, business services and research.
"We are leaving the six years of recession, unemployment, lower incomes, pain and anger behind," writes the recently appointed minister, who said Greece cannot go back to having a consumption-driven economy. "The challenge we face is to envision a future that is different from our recent past."
"Greater technological content, innovation and knowledge" are essential to the country's drive towards growth, Hardouvelis pointed out.
The Finance Minister also pointed towards making the economy more export – oriented.
Data from the Panhellenic Exporters' Association (PSE) and the Centre for Export Research & Studies (MRTC) in May revealed signs of reduced pressure on the total value of exports, but also signs of recovery in a number of different product sectors, bringing the total value of Greek exports down by 8.3% to 2.25 billion Euro (2.45 billion in May 2013). The stabilisation of the decline in exports, together with a marginal decrease in total imports, caused a further increase in the country's trade deficit to 8.83 billion Euro, up by 9.5%.
The Greek government was boosted late Friday night as Moody's raised Greece's sovereign credit rating and gave it a stable outlook, saying it believed the government's fiscal position had improved significantly.
"The first factor behind the upgrade of Greece's rating is Moody's strengthened expectation that the general government debt to GDP ratio will start declining in 2015," Moody's said.
"The government's progress in fiscal consolidation under its economic adjustment programme underscores the improvement in the debt trajectory," it said in a statement raising its rating by two notches from Caa3 to Caa1.
First to react to the Finance Ministers' article was the Communist Party which announced that the government's growth plan was nothing more than ideas aimed at enforcing gains for capitalists who demand not only more privatizations but also further flexibility in the labor market; this means workers without social insurance and trade union rights.