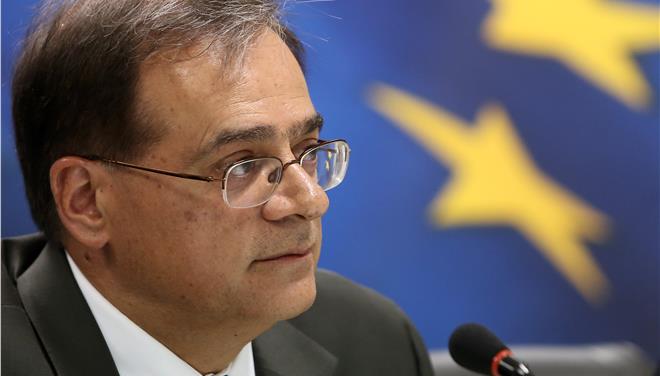 By Spiros Sideris – Athens
Finance Minister Gikas Hardouvelis stands in favor of the credit line offered by the lenders. "I am for the the existence of a strong stock, to which we can turn to and draw resources in time of need", he says.
In an interview to the newspaper "Real News" he speaks of the relationship of the country with the IMF saying that "it is not a divorce. I call it a change in the relationship", says and adds that the IMF will stand by us as observers, without a thorough audit capacity.
Also, he characterises "literature and petty gossip" the front page publications that speak of his "capping" by Giannis Stournaras or the troika from the Maximos Mansion.
"If there was an issue of trust or lack of "chemistry" – as some deliberately reproduce for their own purposes – I would have perceived it", he says on the Prime Minister.
To the criticism that he cannot control the ministers he answered: "consensus, work, responsibility and useful functionaries is what our country needs, not patrons".
In particular, Hardouvelis notes that the biggest problem for the Greek economy and the negotiations is the political climate and uncertainty. "I do not want to and cannot believe that there are political forces who deliberately do not want us to finish with the Memorandum", he says.
"I haven't stopped asking for consensus on major issues", he says elsewhere in the interview, while on the question about the possibility of early elections, on the occasion of the election of the President of the Republic he states: "We are in a fragile balance. The growing dynamics in the financial sector requires political stability to maintain. It is difficult; if we make the wrong choices, we will lose in a few months what we have gained in recent years".
Regarding the speads, he emphasises: "they have gone up everywhere and more so in Greece. The reasons are european, but also greek. Greece is one step before the end of the economic adjustment program and this is a source of uncertainty for what comes after, that is, what will be our future relationship with our hitherto official lenders. This uncertainty became evident. The market will recover when the causes of uncertainty disappear".