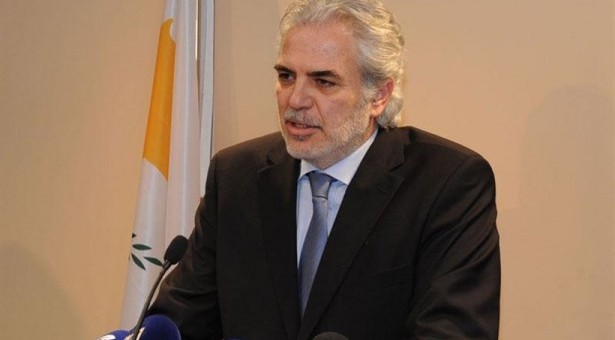 By Kyriacos Kyriacou – Nicosia
It takes hard negotiation, building of alliances and determination on principles to reach a solution to the Cyprus problem, government of the Republic of Cyprus Spokesman Christos Stylianides has said.
Speaking to the press on Tuesday and invited to comment on statements made by the Turkish Cypriot negotiator, the Spokesman pointed out that the Government's position is clear and there is no intention to enter a public negotiation.
He said that negotiating publicly would be a terrible mistake because it would destroy our negotiating cards, our strategies and tactics on the dialogue table.
Stylianides added that during their upcoming meeting set to take place March 31, President Nicos Anastasiades and Turkish Cypriot leader Dervis Eroglu will make an assessment of what has been discussed so far. "This is the beginning of the road, the solution is not ready, what it takes is hard negotiation, we need to form alliances and be determined on the EU principles", he underlined.
The Spokesman referred to the upgraded role of the EU in the Cyprus talks, noting at the same time that we need to bring a new dynamic to the negotiations with confidence building measures.
Stylianides added that it has been acknowledged by the international community that the return of the fenced off town of Famagusta can give a boost to the talks, can change the atmosphere and create an environment of trust.
He went on to say that the indications to this end are good and it seems that the international community understands the basic position of the President.
Cyprus was divided in 1974 when Turkey invaded the island and occupied its northern third. UN-backed talks resumed in February this year, following an agreed Joint Declaration between the leaders of the two communities, namely President Nicos Anastasiades and Turkish Cypriot leader Dervis Eroglu. The leaders are scheduled to meet end of March while the negotiators of the two sides meet on a regular basis.
UN chief meets Turkish President
UN Secretary General Ban Ki-moon met on Monday in The Hague with Turkish President Abdullah Gül, on the sidelines of the Nuclear Security Summit, and discussed the Cyprus issue inter alia.
"On Cyprus, the Secretary General and the President discussed the current state of play and the way forward in the talks for a comprehensive settlement of the Cyprus issue", the spokesperson said, adding that "they both agreed that it was critical to maintain the current momentum following the February resumption of fully fledged negotiations".
The spokesperson noted that "the Secretary General encouraged Turkey to continue to engage actively and constructively on the Cyprus issue and thanked them for their support".
Ban and Gül also had a detailed discussion on the situation in Syria and the prospects for the Geneva talks.