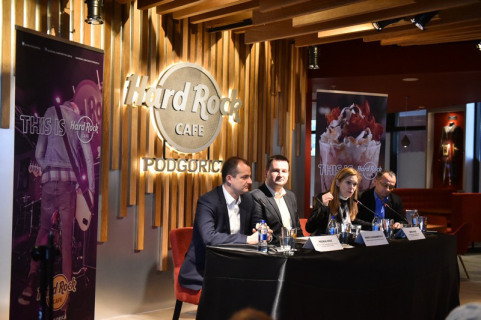 Podgorica, February 5, 2015/ Independent Balkan News Agency
By Adnan Prekic
Citizens of Podgorica will soon have the opportunity to visit the first Hard Rock Café in the Balkans. Licensors, in cooperation with Abu Dhabi Financial Group will open the first facility in the recently completed Atlas Cpital Center. It was announced that this is just the beginning and that very soon we can expect the opening of similar facilities in all countries of the region.
In Podgorica opened the first Hard Rock Café on the Balkans. According to the Director of Operations for Europe and Africa Tanja Hugo, Montenegro is selected because it is the best country for tourism and hospitality in the region. "We are proud to open the first Hard Rock Cafe in Podgorica, thus we give important contribution to improving the offer in the area of tourism and catering sector", ADFG project director for Eastern Europe, Predrag Kozic, said.
The owners have announced that this facility will not only have catering function and that the domestic rock bands will have the opportunity to perform there, but they also plan to bring their international stars. The building with an area of 800 square meters, includes a cafe and a restaurant with 144 seats, distinctive and lively bar up to 25 people, a spacious terrace, a stage for the performance of young bands that will characterise the future of Podgorica's music scene, as well as the Rock Shop.
Memorabilia from Hard Rock collection will decorated the walls of Hard Rock Cafe in Podgorica, including items that belonged to the legendary and contemporary musicians from all around the world. So visitors will be able to see Rihanna black vinyl outfit, Richie Sambora acoustic guitar, Santana electric guitar, Madonna's Gold album, U2 blue denim jacket and much more.
"Congratulations to our franchise partners Abu Dhabi Financial Group for their efforts to open their outstanding Hard Rock Cafe in the capital", said Regional Vice President for Europe, Middle East and Africa Anibal Fernandez. Hard Rock Cafe Podgorica is the first in a series of coffee shops, which will open in this part of Southeast Europe, and the plan is to open a new cafe in the near future.
Hard Rock cafe chain currently has 180 branches in 55 countries, including 40 cafes, 19 hotels and nine casinos. The first Hard Rock cafe opened in 1971 in London.