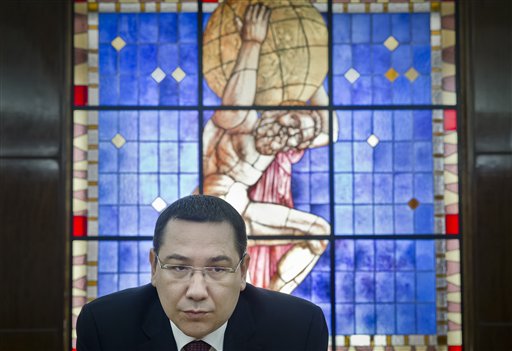 Bucharest, July 14, 2015/ Independent Balkan News Agency
By Daniel Store
Prime Minister Victor Ponta argued that his resignation as Prime Minister would be a betrayal of the citizens who voted for the Social Liberal Union (the defunct USL formed by the Social Democrat Party – PSD and the National Liberal Party – PNL), because it would mean a return to governing of those in power before 2012, as the country's anti-corruption prosecutors seized his assets amid a corruption-related investigation against the head of Government.
"In the Government, things are as follows. It's not that I'm irreplaceable, nobody is irreplaceable, but there are some projects that I've put into practice and that I have to complete. Secondly (…), I was voted, together with [then PNL leader] Crin Antonescu, so we govern, but we were also voted so that those we removed [from office] to not be there anymore (…). Well if I resign from the Government it means I'm giving away the country to those who have destroyed it before (…), which would be a betrayal, categorically, of those who voted for me. (…) My leaving so that those who have destroyed Romania before USL may come [to power] would be a betrayal of those who've believed in the USL", Ponta said last night, during a talk show hosted by private broadcaster Antena 3.
USL ruled Romania 2012-2014, but broke up a year ago following dissent inside PNL. PM Ponta has many times ever since brought up USL in his public speeches in an attempt to forge the union again.  Last night he mentioned that he would agree, in a certain context, to someone else taking the position of Prime Minister, but only if "he were from the USL".
"I will always support someone who has ran in the USL and who will apply what the USL has promised. (…) Don't believe I have reached the conclusion that only I can be Prime Minister, no, there's not a case of that. But an easy handover of Government to those who've destroyed Romania before 2012, yes, I believe it would be a betrayal of those who believed in the USL and who voted for us. And if now those who are in the PNL have betrayed us, it is their sin, not mine, I stayed true to my word", the Prime Minister explained.
Ponta said that his withdrawal from the PSD leadership was an easier choice, because his prerogatives were taken over by fellows who are capable of running the party. He is investigated in a criminal case launched against him on suspicions of forgery, accomplice to tax evasion and money laundering in his once lawyer's capacity.
On Sunday, Prime Minister Victor Ponta had announced he will no longer hold any position in the Social Democrat Party's (PSD) leadership until he proves he is innocent of the charges made him by the judiciary. President Klaus Iohannis again asked for his resignation yesterday as the prosecutors moved forward in their investigation against Ponta.