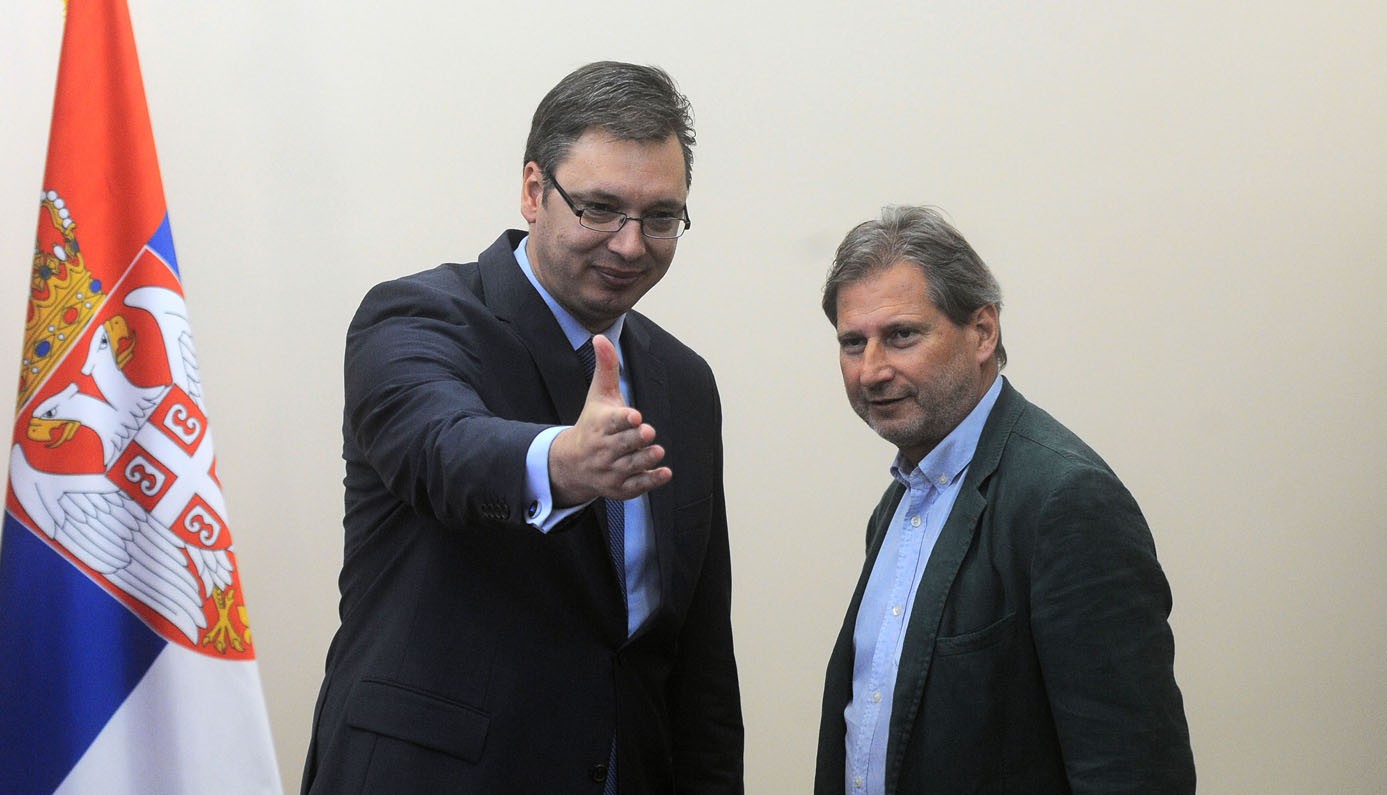 By Milos Mitrovic – Belgrade
Serbian Prime Minister Aleksandar Vucic "was crystal clear" considering his country's orientation in foreign policy and the "Serbian path is path towards the European Union", EU enlargement commissioner Johannes Hahn said on Thursday in Belgrade where he met with Vucic and other Serbian officials.
Hahn explained at the media conference that he did not "insist" on the Ukraine crisis issue during his discussions with Vucic, who has at the same time reiterated the Serbian position – respecting territorial integrity of Ukraine, but not imposing any sanctions against Russia.
"I am telling you the same thing I say to everybody and at any place – Moscow, Washington, Brussels, Belgrade, Kosovska Mitrovica. We do not have two or three politics", Vucic told journalists specifying that he has explained country's position on Ukraine "to Vladimir Putin and Hahn" in the same manner.
Vucic and Hahn did not give a specific date on the opening of the first chapters in Serbia-EU accession negotiations. Serbian premier underlined he did not "ask or beg" Hahn for chapters to be opened by the end of the year "or in any other time".
According to Vucic, "it's essential for Serbia to continue its work and it's up to EU to assess when the preconditions for opening the chapters are fulfilled", RTS reported. Serbia wants the most difficult chapters to be opened in the beginning of negotiations, unlike some other countries (in their respective accession processes), he emphasised.
"We want to improve the rule of law, and to improve situation in every domain", he concluded.
Nevertheless, Hahn stated that "some of the chapters could be opened in weeks to come". He added that "formal chapters opening are one thing, but the preparatory period is also important".
NIKOLIC: We will not impose sanctions against Russia now
Serbia will be patient and will "resolve problems" during accession talks, President Tomislav Nikolic said after meeting with Hahn. Considering Ukraine he said that Serbia "will not impose sanctions to Russia, not in these moments".
"I heard from Hahn today the same thing you (journalists) said – that Serbia is not an EU member and is independent in conducting its foreign policy, but that an EU membership would mean an obligation to follow the common foreign policy", Nikolic said after talks with Johannes Hahn.
Phot: Tanjug