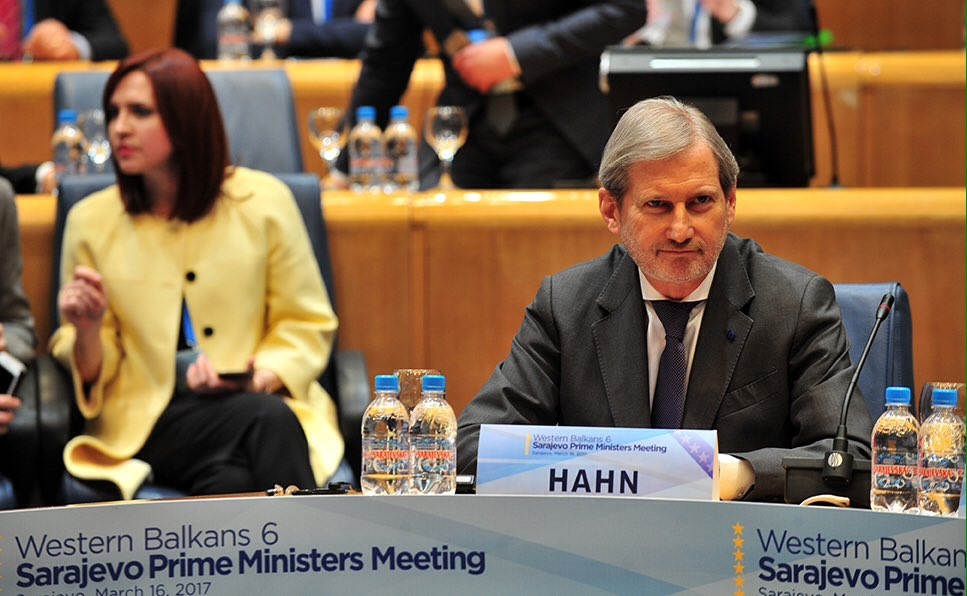 Commissioner for European Neighbourhood Policy and Enlargement Negotiations, Johannes Hahn, stated on Thursday in Sarajevo that the region should assume a leading role and overcome the problems affecting the internal situation.
During the Western Balkans Summit, which gathered prime ministers of six countries in region and various organizations, Hahn said that the region should grab a good opportunity for closer cooperation, must always monitor the situation and "break the borders and use the positive wind".
"We will either have positive messages or we will close that door of opportunity due to some bad messages, but I believe that one should not 'play with fire'. I am asking you to demonstrate statesmanship like you did in the past and use the number one opportunity, which is in the EU's interest, too", Hahn emphasized in his speech to PMs.
Stressing that the Western Balkan citizens want to move forward, Hahn added that everyone must turn to their obligations and qualified this meeting as a very good sign. He also said that the EU wanted the Western Balkan countries to become a single market, without any obstacles among countries, and that the market then can be integrated with the EU. Hahn recalled that Western Balkans market has around 20 million consumers and borders with EU markets, which is its great advantage.
"The economy is the most urgent issue that will lead to significant progress in the direction of European integration, said Han and explained that a common market in the region has the potential to open at least 80 000 new jobs by the year 2025.
Han stressed that Brussels sends a clear and strong signal to the region. He said that EU fully understand how serious the situation in the region is.
BiH Council of Ministers Chairman, Denis Zvizdic, said at the press conference that the summit shows that leaders of the countries in the region can cooperate on various issues but that they are also know that there are some problems.
"Our message is clear – we want the European perspective for Western Balkans to remain in the future", Zvizdic said.
He added that BiH will continue to lead the constructive politics in the region and to cooperate with all countries to identify the similar problems and to solve them with joint efforts.
The Western Balkans Summit aimed to bring the regional countries closer to the EU and start discussions on regional projects in transport and energy infrastructure. Participants also discussed cooperation in the field of youth initiatives and education.
The summit was attended by the prime ministers of Serbia Aleksandar Vucic, FYR Macedonia Emil Dimitriev, Montenegro Dusko Markovic, Kosovo Isa Mustafa and Albania Edi Rama, and host of summit was Chairman of BiH Council of Ministers, Denis Zvizdic./IBNA