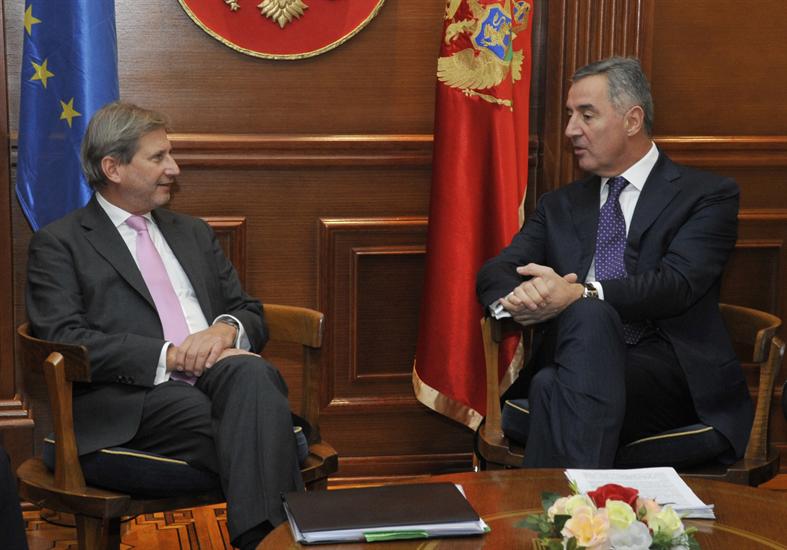 By Adnan Prekic – Podgorica
The issue of enlargement and the accession negotiations remains one of our top priorities, said European Commissioner for Neighbourhood Policy and Enlargement Negotiations Johannes Hahn during his visit to Montenegro. Your country is one of the pillars of stability in the region, said the commissioner, stating that a stronger integration of the region through joint projects could result to better living standards for the citizens of each country.
"With the establishment of the new Commission under President Juncker, the enlargement policy and the accession negotiations with Montenegro still remain a priority", emphasised the European Commissioner for Neighbourhood Policy and Enlargement Negotiations Johannes Hahn.
"I'm here as a witness to the fact that in the past five years Montenegro has made progress that can be seen through many examples such as achieving candidate status in 2010, through negotiations on accession in 2012, including the fact that today we till open 12 chapters in the negotiations, among others the famous chapters 23 and 24 relating to the rule of law", said Commissioner Hahn.
Hahn also commented on the media freedom in Montenegro and welcomed the steps taken by the government towards upgrading media freedom and resolving cases of violence against journalists. At the same time, he called on the media to promote professional and ethical standards, as "more responsible and accurate media" that will enable better communication when it comes to the accession negotiations.
Montenegrin Prime Minister Milo Djukanovic emphasized his satisfaction that Commissioner Hahn started his visits with the Balkans countries. He believes that this visit speaks about the continuation of EU enlargement. Montenegrin Prime Minister pointed out that he  informed Commissioner Hana that "we are on good way to adopt by the end of this month the biggest part of the required changes on which we work together with our European partners". "I believe that all of this will contribute to the opening of new negotiation chapters", said the prime minister.
Commissioner Hahn, who is on his first official visit to Montenegro earlier today met with Montenegrin President Filip Vujanovic, as well as with the Minister of Foreign Affairs and European Integration Igor Luksic.