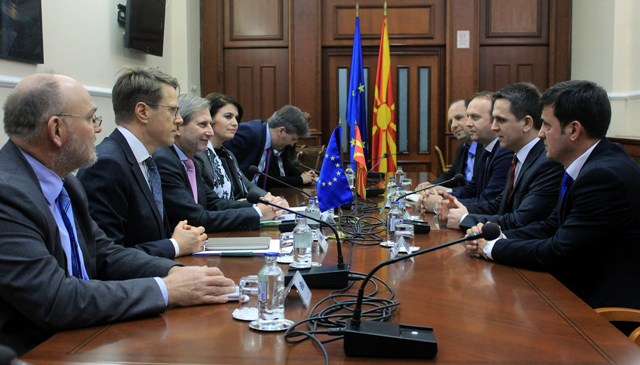 During his two day stay visit in Skopje, EU Enlargement Commissioner, Johannes Hahn demanded from political parties to form a government as soon as possible. He said that Brussels has brought no suggestions for the coalitions. Last night, Hahn held meetings with all political parliamentary party leaders, while this morning, he also met with president George Ivanov.
Hahn said that a solid government should be formed.
"We maintain that a government should be formed as soon as possible, as it must address challenges in the domain of reforms, judicial system, security, etc. The new government must follow the euroatlantic integration path. I have not brought any concrete suggestions for political parties, but they must be responsible for their acts", Hahn said.
The meeting with the leader of VMRO-DPMNE, Nikola Gruevski has been the last one, but no declarations have been issued for the media.
Meanwhile, leader of SDSM, Zoran Zaev said after the meeting with EU commissioner Hahn that the European official has demanded for the government to be formed as soon as possible.
"We're doing everything we can to collect the necessary signatures in order to receive the mandate and then start negotiations for the creation of the new government. I am ready to talk to all Albanian political parties once I am given the mandate, however, there are several 'red tapes'", Zaev said.
The leader of BDI (Democratic Union for Integration), Ali Ahmeti said that the country needs a solution, not any kind of solution, but a solution which will produce stability, which would strengthen peace, encourage good ethnic relations and a solution that offers guarantees for adequate reforms in the country.
He said that BDI will not support SDSM for the creation of the government, without first making sure that this party accepts the points of the agreement of the Albanian parties for the advancement of the Albanian language and other rights of Albanians.
Present in the meeting was also the resigned leader of PDSH, Menduh Thaci.
"I came here for two reasons: to meet with my friend and the friend of Albanians, Mr. Hahn and for the citizens who miss a true representative of the opposition. Other parties showed that they are not opposition parties, but pro government parties", declared the leader of PDSH.
The leader of the Alliance for Albanians, Ziadin Sela said after the meeting that the new elections are not an option for the solution of the crisis and that no bargaining can be made with the demands of Albanians. Sela too insists that the support for the creation of the new government goes through the platform of Albanians.
Afrim Gashi of Besa Movement said that clear recommendations have been received by the EU commissioner in order for a rapid solution to be found for the creation of the government.  /balkaneu.com/