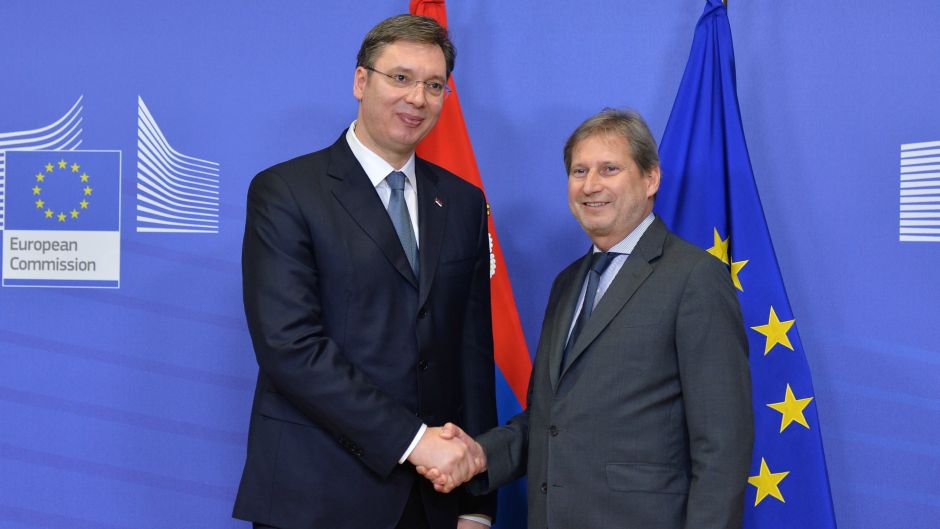 The Western Balkans countries should look up to Serbia which has achieved good economic performance, European Union's enlargement commissioner Johannes Hahn said today after meeting prime minister Aleksandar Vucic on the margins of World Economic Forum in Davos. Hahn added he was hopeful that EU would soon open new chapters in accession negotiations with Serbia.
Hahn said that he and Vucic have discussed situation in the Western Balkans, especially in the domain of economy. In his words, it would be good the countries in the region to create single market because it would have 20 million people and could strongly attract companies from EU members.
"Serbia has achieved good results in economy", commissioner said talking on unemployment reducing and growth. Hahn underlined that premier Vucic "has vision how to improve living standard and give job to the people" rather than let them migrate.
"This is possible only if you have a bigger market which is attractive, but you need a vision for this", Hahn said. Considering Serbia's EU path he said that "Balkans has its place in the EU" and said he was hoping for the further progress.
Vucic also spoke with Austrian foreign minister Sebastian Kurz who has stressed that "premier Aleksandar Vucic plays meaningly positive role not only in Serbia but also in the region". "From my perspective he (Vucic) is a guarantor of the positive development not only for Serbia, but also for the region", Kurz went on.
"We are grateful to you for your meaningly positive role… The action plan for our cooperation in 2017 is an opportunity to further enhance good partnership between Serbia and Austria", Kurz told Vucic./IBNA