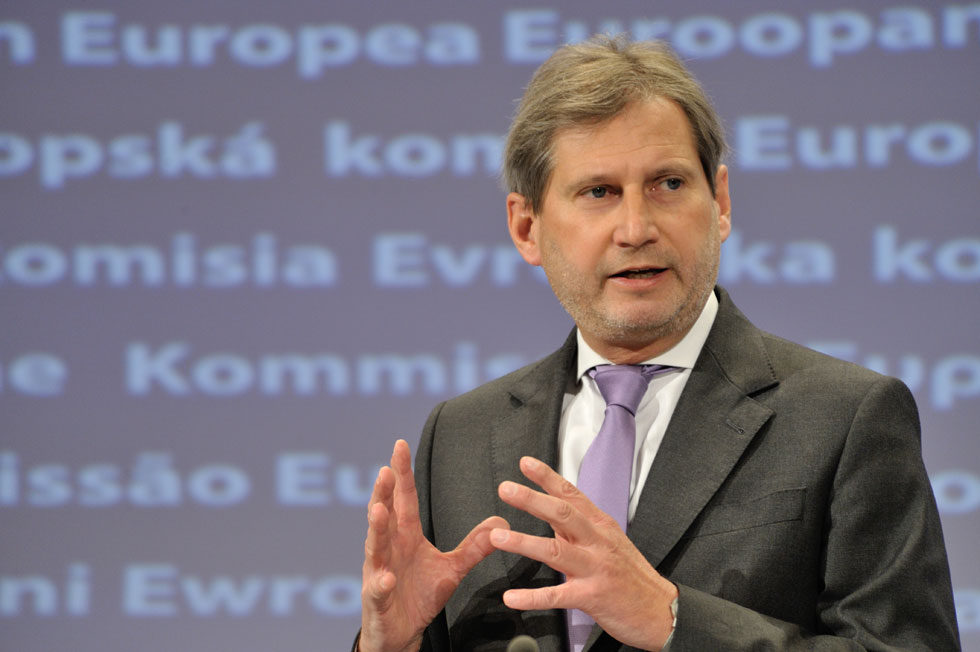 Belgrade, May 7, 2015/ Independent Balkan News Agency
By Milos Mitrovic
European Union fully supports "the important work" of Serbian Ombudsman, EU's Enlargement and Neighborhood Policy Commissioner Johannes Hahn stated after meeting with Sasa Jankovic and the representatives of Serbian non-governmental organizations in Belgrade today. Hahn started his official visit to Serbia with this encounter, media in Belgrade report.
Writing in his Twitter account, EU's commissioner also stated the European block's support to independent institutions in Serbia.
Earlier this year, the Ombudsman came at odds with the Serbian government which has criticized its investigations stigmatizing Jankovic as a unprofessional. At the peak of the conflict, media which are close to the government have questioned the 1993 suicide case of Jankovic's friend suggesting his involvement. Earlier this week the UN High Commissioner for Human Rights Office stated he was "concerned by the continued and increasing pressure by Serbian authorities on Ombudsman Sasa Jankovic".
In January, the ombudsman voiced concerns relating to the Military Security Agency (VBA), including suspicions that the VBA had been illegally spying on opposition parties, union leaders and judges, UNHCR recalled.
Commissioner Hahn underlined that he has had "good opinions exchange" with NGO representatives considering Serbia's accession to European Union, especially in the domain of the rule of law. "Active engagement of civil society is crucial for inclusiveness" in accession process, Hahn added.
Hahn also met Serbian President Tomislav Nikolic who informed him that Belgrade "expects" the opening of the negotiating chapters in accession process until the end of the year. Nikolic told Hahn that he would complete his platform about "resolving the relations with Pristina" soon.
However, Hahn said that Kosovo "is on side of the coin, while the country's readiness for the opening of the chapters is another", Radio-Television of Serbia reports. Hahn has not mentioned a possible date for the opening of the negotiating chapters.
He explained he has discussed the issue with EU's 28 member states. "When you talk with 28 members… each one has his own opinion and interests. Some are interested in the rule of law, others in human rights implementation and media freedom. It's not easy to harmonize all this together", Hahn emphasized.
It's also not easy to explain why Serbia will participate at the parade in Moscow, the commissioner went on. On Saturday, May 9, President Nikolic and guards of Serbian army will attend the military parade in Moscow, marking the 70th anniversary of Nazi Germany's defeat in the Second World War. The event will be largely boycotted by the West due to its conflict with Russia over Ukraine.
At the same time, Hahn stated that harmonizing foreign policy of the EU-hopeful with Brussels "is a process" and that the sentiments of the candidate country's citizens considering certain issues should also be taken into account.
Later today Hahn will meet Serbian Prime Minister Aleksandar Vucic.