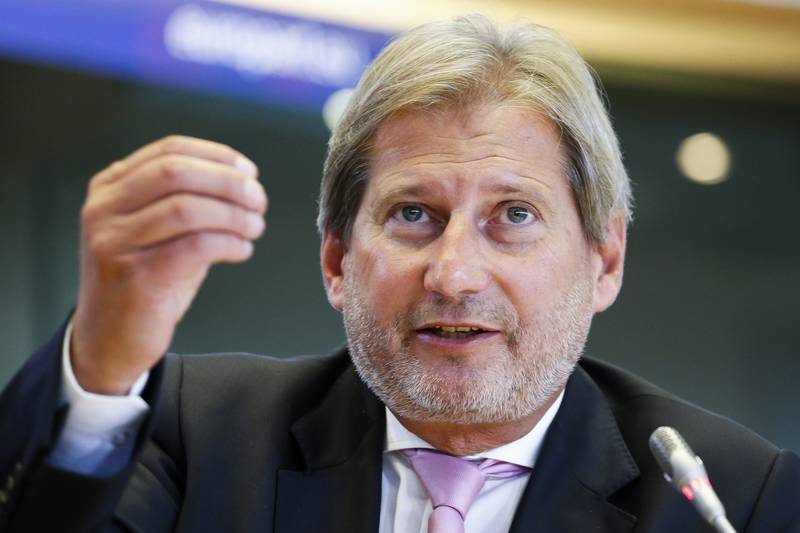 Sarajevo, May 8, 2015/ Independent Balkan News Agency
By Mladen Dragojlovic
European Commissioner for European Neighbourhood Policy and the enlargement negotiations Johannes Hahn visited Sarajevo Friday and held the meetings with highest officials in the state who informed him on the implementation of responsibilities taken with new EU initiative for BiH accession to Union.
Among others, Hahn met the member of BiH Presidency, Bakir Izetbegovic, who welcomed the decision of the General Affairs Council of the EU to put in force the Stabilisation and Association Agreement as a significant step forward in the process of European integration. He added that the agreement, which came into force June 1, will result in further intensification of dialogue in a wide range of issues.
"It is certain that this progress will ensure the building of effective institutions, facilitate the development of a market economy and consumer protection, as well as provide a clearer and more secure framework for investors and also will ultimately result in the improvement of the overall business environment", has been announced from the BiH Presidency.
Hahn also met BiH Minister of foreign affairs, Igor Crnadak, who said after the meeting that in the next few days the initial program of reforms will be defined, in what it will be the first serious test for new governments in BiH.
"Soon we will have the first meetings and first serious documents which will determine what we will do. One of the first tests will be the coordination of the mechanism with EU and it is very important to solve this issue in order to ensure the coordination with EU to go smoothly and efficiently", said Crnadak.
He added that most of the job in the following period will be on governments in entities, but it doesn't mean that BiH council of ministers will be on the side. This will be a joint job in institutions on all levels of government, with significant and direct help from EU.
On the press conference after the meeting with Crnadak in Sarajevo, Hahn emphasized that EU countries have changed their stance towards BiH, and added that the positive atmosphere that has been created has also created great expectations in the EU.
"We are ensured that this positive spirit, which it is possible to feel in the whole BiH, in the near future will yield good results. We also respect the contribution of the new BiH governments, which is visible in last several weeks", said Hahn.
He added that EU is ready to help, including financial support, and that it already was the topic of discussion for the period 2015-2017. Also, there is the support which BiH has already received as a help for post floods reconstruction of the country.