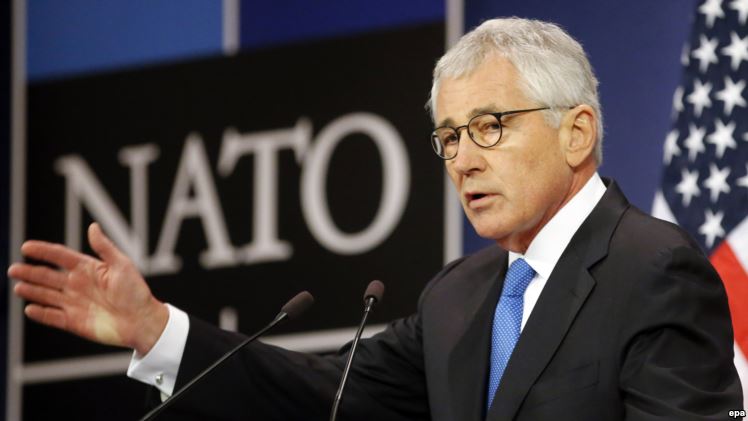 Podgorica, February 6, 2015/ Independent Balkan news Agency
By Adnan Prekic
US Defense Secretary Chuck Hagel said at a press conference, after a meeting of defense ministers of NATO member states in Brussels, that the Alliance remains committed to open-door policy. Hagel announced that NATO members in the Alliance will decide on Montenegro's membership by the end of the year.
The views of NATO member countries communicated at the summit in Wales was confirmed by the US Secretary of Defense Chuck Hagel. He announced that the invitation for Montenegro will definitely be decide by the end of year. Everything could be made more clear after the Munich conference on which Montenegrin Prime Minister will have a opportunity to talk directly with US Vice President Josef Biden.
The meeting is scheduled on Biden's initiative to exchange views on the progress that Montenegro has made in NATO integration, to meet the decision of the member states of the Alliance of Montenegro's readiness for membership in the organization. It will be Djukanovic's second meeting with senior US officials in the past ten months, and before that he was in Washington in April last year, when Biden  confirmed US support to Montenegro on the path to NATO.
Leaders of NATO member countries have agreed to open intensified and focused discussions on Montenegro's candidacy for membership. From the NATO summit in Wales in september 2014 it was announced that by the end of 2015 it will be made known whether Montenegro will get an invitation to join the alliance.
NATO member countries found that the reform of the Intelligence Service is not yet completed and that Montenegro has to complete the given conditions by the end of 2015. It is quite clear what Montenegro needs to do in order to obtain an invitation to join NATO. The list of conditions that has been given by the member countries has to be completed by the end of 2015. NATO Secretary General Anders Fogh Rasmussen said that Montenegro could be ready to begin talks to join, if they meet certain requirements. One of the key tasks of the Montenegrin authorities in this period will be the reform of the security sector, the only area the Secretary-General specifically mentioned.