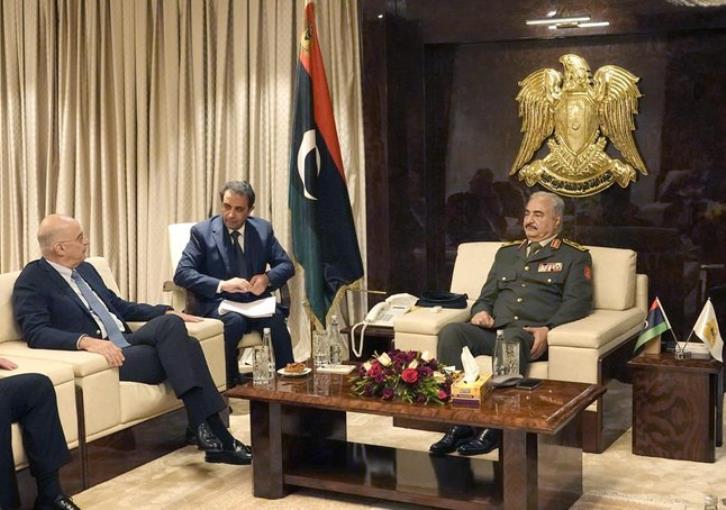 The Libyan National Army (LNA) leader Khalifa Haftar arrived in Athens on Thursday afternoon to meet with Greek Prime Minister Kyriakos Mitsotakis and Foreign Minister Nikos Dendias.
With the Berlin Summit on the Libyan crisis just around the corner, General Khalifa Haftar is travelling to Athens to hold contacts with the Greek Prime Minister and Foreign Minister, although Greece will not be attending the conference.
According to unconfirmed reports by IBNA, Egyptian President Abdel Fattah al-Sisi played a pivotal role in Khalifa Haftar's visit to Greece, who intervened to bring the Libyan military leader in eastern Libya to Greece, so that a last-minute effort could be made for Greece to participate in Berlin. It is also noteworthy that a question regarding the absence of Greece from the Summit was tweeted out by the National Army of Libya immediately after the German side officialized the participants of the Summit.
Khalifa Haftar arrived shortly after 20:30 (local time) at the Athens International Airport and headed to a central hotel, where he had a private meeting with Greek Foreign Minister Nikos Dendias .
On Friday morning, there will be an official meeting between Greek Foreign Minister Nikos Dendias and Khalifa Haftar, while at 13:00 he will meet with Greek Prime Minister Kyriakos Mitsotakis at Maximos Mansion. Furthermore, sources report that Haftar will meet with National Defense Minister Nikos Panagiotopoulos and the National Security Advisor to the Prime Minister Alexandros Diakopoulos. /ibna