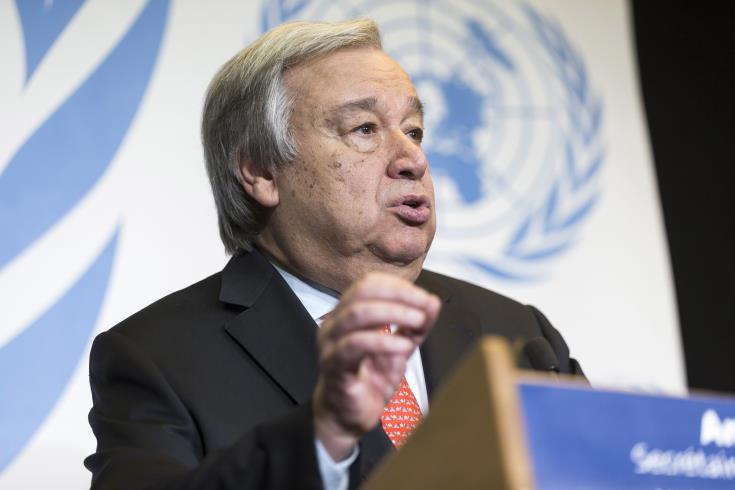 New messages from the T/c side
By Michalis Michael
The hope is that meaningful negotiations can start on the Cyprus problem, which this time will be different from the past, UN Secretary-General Antonio Guterres said. He made this statement in response to a question from the CNA at the press conference he gave on the occasion of the opening of the 74th session of the UN General Assembly.
"My message is that it is very important to quickly agree on the terms of reference so that we can start meaningful negotiations, this time different from the past. This is my message to all the leaders I meet. It is time to agree at least on the terms of reference, on the basis of the work that has been done, especially in Crans Montana. Because I strongly believe that the political process needs to be restarted". The UN Secretary-General explained that this is also very important for all parties involved.
"I see a lot of impatience on the part of the Security Council due to the fact that there is no progress and I believe there are very good reasons for the parties to understand that they should come to an agreement, at least in the terms of reference", he added.
The Cyprus problem will be resolved through politically equal entities, Turkish spokesman says
"The Cyprus problem will be resolved by relationship of political equal entities, not by a minority-majority relationship, and the 'Greek Cypriot leadership' must understand this simple reality, which has long been a UN parameter", Akinci's spokesman, Barış Burcu, said today.
In a written statement, Burcu refers to a statement by President Anastasiades, which was made in an interview with the Associated Press, and said that the President of the Republic "continues to determine the Cyprus problem in a minority – majority relationship".
He further argued that President Anastasiades is trying to distort reality, saying that the principle of positive voting and effective participation in decisions has been put on the agenda because of Turkey's imposition. He states on the matter that political equality and effective decision-making are the position of the Turkish Cypriots and are also a UN parameter. The principle of political equality and effective participation in UN reports and various Security Council resolutions is one of the most fundamental approaches ever agreed in the negotiations, Burcu added.
"In fact, the principle of a positive vote in the Cabinet has already been agreed between the two sides", he said./ibna