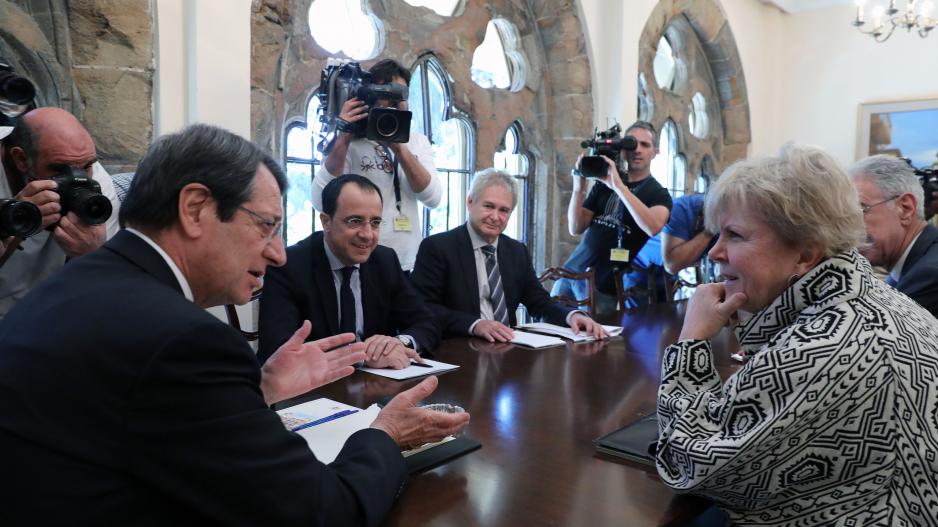 It is finally expected for mid-week – it is not unusual, diplomats say
By Michalis Michael
According to information broadcasted by the UN headquarters in New York, it is not unusual for the United Nations Secretary-General to table today the UN Secretary-General's good service report to the UN Security Council members.
An official of the international organization said – under unanimity – that it would be given to the SC members before mid-week.
The Security Council Resolution 2453/2019 called on the UN Secretary-General to submit a report on the mission of his good services and the efforts of his adviser until April 15, but Jane Holl Lute only just recently completed her contacts in Cyprus and appear to continue her contacts through the telephone, in order to find a procedural formula.
It is not unusual not to observe the deadline of the SC for similar reports, when there are reasons, diplomatic sources state.
New ideas
At the table of the Cyprus problem at this time, there is some evidence to be discussed, under the guise of new ideas. The Cypriot government spokesman, Prodromos Prodromou, said that Mrs Lute also seemed to have formed a specific idea, but for the time being he did not make any specific placement.
On the subject of the ideas that have fallen on the table, the political leaders also spoke with the President of the Republic of Cyprus, Nicos Anastasiades, on the sidelines of what was taking place at the presidential palace with regards to the retrospective compensation of civil servants' salary cuts.
The AKEL Secretary General, Andros Kyprianou, was also laconic on the issue. He did not elaborate on what these new ideas were about, but said they were things that have been discussed in the past. The important thing at this time, and while Antonio Guterres's report is delayed, is to see whether the ideas about both the decentralized federation and the parliamentary system of government will find space in this report and in what form.
Nicosia expects that the efforts it makes with the two above-mentioned proposals for breaking the deadlock be recognized and that the UN Secretary-General will follow up on Jane Lute's work on the terms of reference. However, they all realize that this is a focal point in the Cypriot problem. As long as the standstill remains, it only benefits those who want other frameworks of solution, namely Turkey and certain circles in the occupied areas./ibna