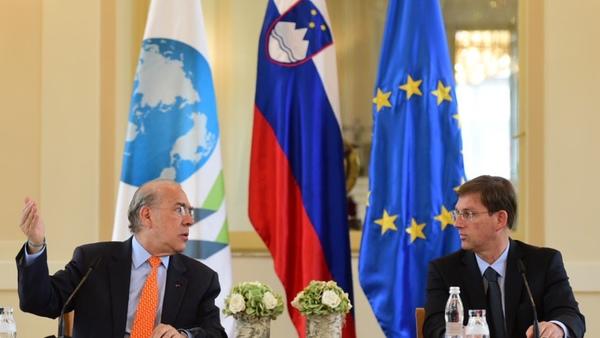 Sarajevo, May 5, 2015/ Independent Balkan News Agency
Review Hari Stefanatos
Slovenia's progress in recent years had been impressive, but there is still much to be done, OECD Secretary General Angel Gurria said after meeting PM Miro Cerar in Ljubljana Monday. Gurria, visited the Slovenian capital to present the 2015 OECD Economic Survey of Slovenia.
The head of the OECD noted that Slovenia's turn from recession to growth in the past few years is due to the reforms that have been implemented, as well as some external factors such as the fall in the value of the euro and low oil prices.
Addressing a joint conference with Gurria, Cerar expressed pleasure that OECD recommendations issued today were "very much in tune" with the government's plans.
Gurria, however, underlined that Slovenia has a lot of ground to cover still, notably the continued restructuring of banks and the corporate sector, further fiscal consolidation and structural reform. That is, Slovenia must proceed to more structural reforms, underlining the need for a reform in the pension system, in order to achieve its fiscal sustainability because of the rapidly ageing population.
Cerar said that his government was debating the issue of pension reform intensively and that life expectancy was an important factor, but probably not the only one.
Gurria also called for structural reform concerning taxes, labour market and healthcare. "It's all about things that take time. No one produces immediate results, but they must be done," he said, adding that necessary measures need to be taken to improve the business environment and corporate governance.
Cerar said it had been agreed for the OECD to help Slovenia with its expertise and advice to draw up the national development strategy by 2050.
Acknowledging the many strategies on the table, Cerar said: "Time has come at last to take all these components to compile an umbrella strategy to give us a common vision going forward".
Source: Sloveniatimes