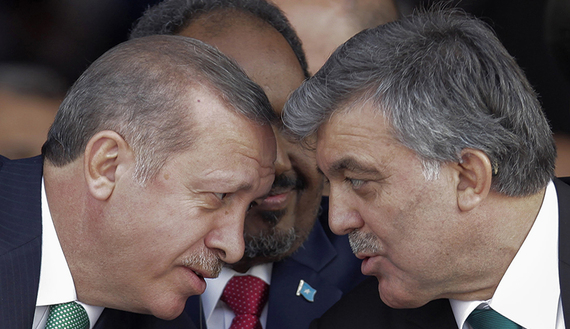 Twitter to be allowed to function again in Turkey?
By Manolis Kostidis – Ankara
After the "battle" of the public elections in Turkey, now everyone have focused to what Erdogan is planning to do in regard to his political future.
The country's President, Abdullah Gül, in an interview to Turkish journalists, who follow him in his official visit to Qatar, raised the issue of the presidential election next August and showed that he does not want tension with Erdogan on who will become President.
"I had said that we will discuss it when conditions are ripe. Since the public elections have been completed and the presidential elections are to be held in August, that time has come. By early May, it will have become clear what will happen, "said the Turkish President".
However Gul clarified that "neither I nor the prime minister will make a move before we discuss it between us", showing that he is willing to find a consensual solution and that they will not run as rivals for the presidency.
Scenarios indicate that what Erdogan wants is to become President and Gul to become prime minister and chairman of the AKP. The Turkish prime minister reportedly believes that the formula applied by Vladimir Putin in Russia with the exchange of places with Dmitry Medvedev was successful and wants to apply it in Turkey .
Twitter to open
Gul, in his statements to the journalists, very clearly argued against the ban on Twitter and YouTube. " The bans must be lifted", he said.
On Wednesday afternoon, the Communications Committee of Turkey started to gradually allow access to Twitter, following the decision of the Constitutional Court, which had ruled the ban illegal .
Until late in the evening, however, the flow in Twitter was not normal and many Turks believe that there will be delays and "blocking " of many posts. The ban on YouTube is still in effect .
All eyes are turned to Ankara
In Ankara the counting of ballots continues and everyone is waiting for the final result from the Higher Election Commission. The AKP 's candidate, Melih Gökçek, argues that he will be the ultimate winner, while the Republican People's Party claims that in a few days the rigging will be proved.
The final results are expected to be announced at the earliest in two weeks time.
However, in the town of Yalova , while the first results had shown as the winner of the election the candidate of the AKP with one vote, after the complaints all the ballots were counted again the final winner proved to be the candidate of the CHP.
The opposition hopes that the same will happen in the municipality of the turkish capital.