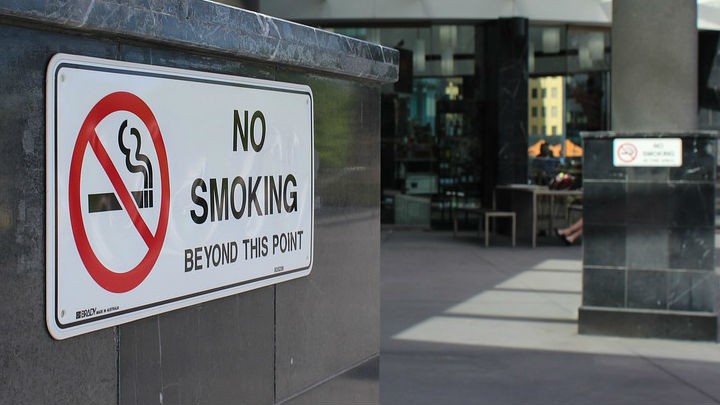 Smoking in enclosed public venues, as of today, is prohibited in Montenegro. The new Law on the Restriction of the Use of Tobacco Products entered into force, leaving the coffee shops and restaurants owners unsatisfied with the new situation.
The Law strictly prohibits the use of tobacco products indoors, except for casinos. Anyone who violates the provisions of this Law will be fined up to €20.000, said the Health Minister of Montenegro, Kenan Hrapović in an official statement published by the Government of Montenegro.
The new law prohibits smoking in any room or area where food and drinks are served and consumed.
In addition, the law bans the use of tobacco products in any part of enclosed space where state or local authorities and services perform their activities, in areas where educational, healthcare or cultural activities are performed, in the areas of social protection, sport and recreation, trade, production or storage of food, recording or public broadcasting, as well as in the areas where meetings and public gatherings are held. It is possible to designate a specific part of the space that the owner or user designates solely for this purpose. The law clearly stipulates the conditions of insulation, surface, position and equipment of that part of the space: the room must be insulated in such a way that no tobacco smoke can flow into the rest of the space, and the surface must not be less than 10 square meters, must not occupy more than 20 per cent of the workspace or public space and should not be used as passage to other spaces.
The new law also prohibits the sale of tobacco products that are not labelled with printed warnings covering 65% of the front and rear end of a pack.
The law will have a negative impact on the catering business, said the manager of one Podgorica-based restaurant, Boško Bošković.
He said that work was slow this morning. "People don't come in. It's bad," he noted.
Bošković said they were preparing for law enforcement at the facility where he was employed.
"We already took some measures at the end of the shift last night. We removed the ashtrays from the tables to let the arriving guests know that there was no smoking in our restaurant", he told the media.
The employee of another Podgorica restaurant, Marko Nedović, said that the guests were very surprised because they did not know that the ban would be applied as of today.
"They were very surprised because they thought there was a certain deadline, maybe a month, before the law came into force. We did not take risks, we obey the law," he said.
Nedović added that they had already removed the ashtrays and that they would respect the Law on the Restriction of the Use of Tobacco Products.
"There will be no smoking. I do not know how this will affect work from now on", he stated./ibna