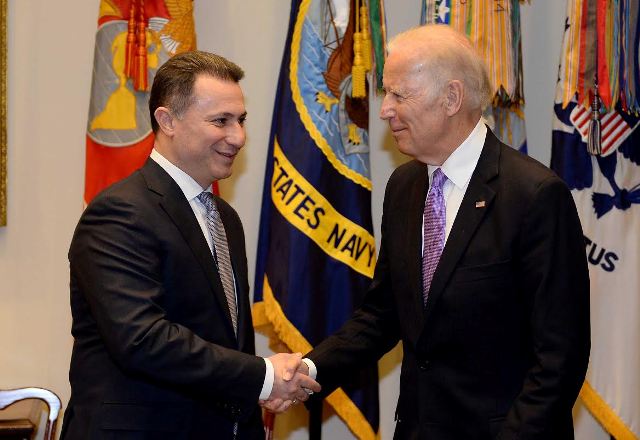 Skopje, 13 January 2016/Independent Balkan News Agency
By Naser Pajaziti
Prime Minister Nikola Gruevski's visit to Washington has been accompanied with different comments and debates in Skopje.
SDSM (Macedonian Social Democratic Union) in opposition declared that Gruevski has received clear instructions in his visit in the US and from the meeting with vice president Joe Biden as to what direction must the democratization of the country take. This party declares that the USA has made it clear that there is no other solution for the country but to implement the obligations of the political agreement of June 2 and the holding of free and democratic elections.
Political analysts and diplomats think that Gruevski was clearly instructed to apply the political agreement based on the set deadlines, by not dragging the political gridlock in the country.
"I think that it was clear that this visit had to do with the political situation and Przino agreement. The fact that the prime minister has demanded this meeting and that the request was accepted, shows that he's aware about the important role of the international community, especially of the USA in overcoming the situation", underlined political analyst Ibrahim Mehmeti.
Mehmeti says that the solution of the name contest has not been a priority of this visit.
"I believe that the USA or any other country doesn't expect a solution of the name contest for the time being, but this can become part of the package of talks and eventually, part of the promises that Gruevski must make in order to be supported", says Ibrahim Mehmeti.
Malinka Ristovska Jordanova from the Institute for European Policies said that this meeting was an opportunity for the US to express their stance on the situation in FYROM.
"The short statement released by the White House on the meeting between Gruevski and Biden, indicates that this was not a high level meeting. But the main topic and Biden's instructions involved the political crisis and the USA has conveyed its stance on the political situation in Macedonia. We are expecting to see the developments in the coming days, as according to the June 2 agreement, Gruevski is expected to leave his post on 15 January and for an interim prime minister to be elected, who will organize the 24 April elections", said expert on international affairs, Malinka Ristovska-Jordanova.
Prime Minister Gruevski commented his visit on his return, by stressing that it's not important who requested the meeting with Biden, but the content and the essence of the meetings in Washington. /ibna/