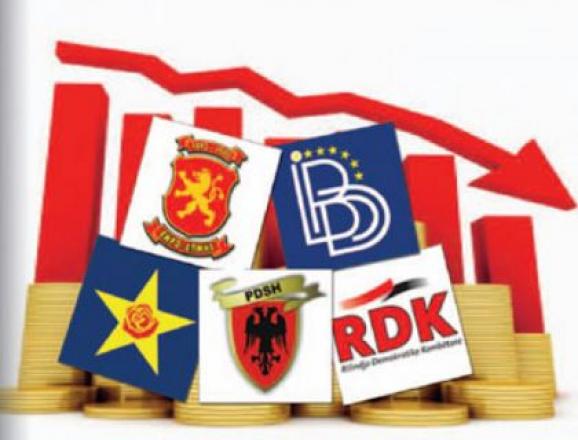 Skopje, March 24, 2014/Independent Balkan News Agency
By Naser Pajaziti
According to a survey conducted by Center for Research and Analysis, current parties in power, VMRO-DPMNE and BDI (Democratic Union for Integration) continue to be ahead of other opposition parties. But, the survey shows a narrowing of difference between BDI and other Albanian party PDSH (Albanian Democratic Party) by only 2,4%.
39,7% of respondents declared that in the early parliamentary elections they would vote for VMRO-DPMNE, 13,5% would vote for Macedonian opposition led by LSDM, 6,9% would vote for BDI, 4,4% would vote for PDSH and 0,6% would vote for RDK (National Democratic Renaissance), which has seen a significant drop in polls.
Prime minister and leader of VMRO-DPMNE, Nikola Gruevski seems to enjoy the biggest support among voters with 37,8%. Gruevski is followed by leader of LSDM, Zoran Zaev with 11,6%. But difference has been reduced between the two leaders of Albanian parties, Ali Ahmeti from BDI and Menduh Thaci from PDSH. According to the survey, 7,6% would vote for Ahmeti while 5,5% would vote for Thaci.
There's an even smaller difference by only 2,1% in the rating of the leaders of the two parties. In the survey conducted by the Center for Research and Analysis, leader of BDI, Ali Ahmeti's rating has fallen by 7,6% while Menduh Thaci's rating has increased by 5,5%.
Meanwhile, RDK and its leader, Rufi Osmani have dropped by 1% and this party is even risking not to be able to win any seats in parliament.
The survey has taken place with the participation 1.839 respondents throughout the country. /ibna/