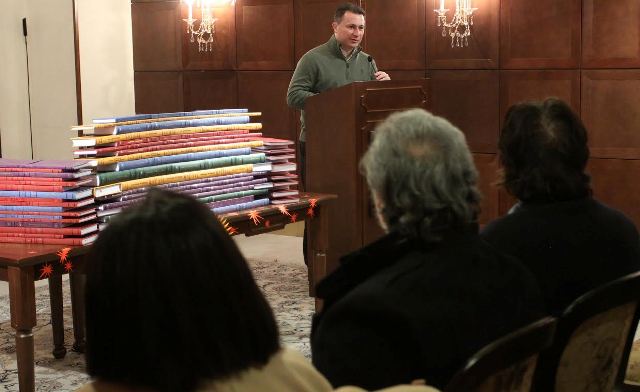 Skopje, 4 January 2016/Independent Balkan News Agency
By Naser Pajaziti
Prime Minister of FYR Macedonia, Nikola Gruevski will leave office before 15 January and the current government will be chaired by an interim prime minister, who will remain in office until the elections of 24 April. Gruevski warned that he will leave before 15 January, while the new prime minister will be chosen on this day.
"In compliance with the agreement, a new government will be formed on 15 January with a new head of government which will hold the elections. VMRO-DPMNE will bring its proposal about the new head of the government, who will take office after my departure", Gruevski said.
According to the June 2 agreement, the current government Gruevski must resign and a new interim PM will be elected. The candidates for the post of prime minister will be proposed by the largest opposition party, VMRO-DPMNE, which is chaired by Gruevski.
But, the political agreement has not yet been finalized, as no accord has been reached for the law on media, there are disputes on the committee that will investigate the wiretapping affair and Special Prosecution has not yet started its work.
In order to unblock the political negotiations and to enable the full implementation of the agreement, the EU Enlargement Commissioner, Johannes Hahn is expected to arrive in Skopje in mid January.
Political analysts say that if the conditions of the political agreement are delayed, then the elections must be postponed. Political analyst, Naser Ziberi says that there are no suitable conditions yet for free and democratic elections in April, as the majority of criteria have not been fulfilled.
"The postponement of deadlines doesn't leave much time to consolidate the institutions that will hold the elections, such as the State Election Commission or the interim government. Therefore, the delays in these deadlines must lead to a postponement of the elections. I believe that September would be the time when Macedonia will be expected to hold elections", Ziberi says.
The June 2 agreement of last year was reached between the main four parties VMRO-DPMNE, SDSM, BDI and PDSH. This agreement was brokered by EU Enlargement Commissioner, Johannes Hahn. /ibna/