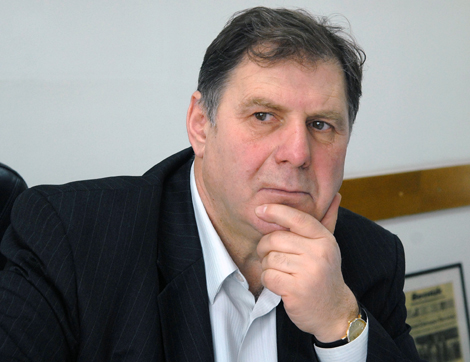 Erol Rizaov
Nikola Gruevski had just packed his bags to return to his homeland, he had to unpack yet again. A white horse was ordered from Hippodrome's stable which he wanted to ride to the Skopje square. It was all a big lie and a serious slander. Everything was cut, edited and modified and created in the many years of illegally wiretapped telephone conversations of over 20,000 citizens and public figures just to deface Macedonia and overthrow a great statesman and leader, to compromise his party VMRO-DPMNE. With his falsified overthrowing, the ordered trial, conviction and persecution, the government has inflicted great injustice on an honest man, a patriot and a politician, his party and his closest associates, to all citizens and the entire country. In the Zoran Verushevski's shocking statement to prosecutors, one of the key figures in uncovering the biggest scandal with years of surveillance on thousands of citizens, Gruevski saw his innocence and rehabilitation.
In a triumphant address to the citizens of Macedonia, Gruevski exclaims – didn't I tell you that the truth is like an awl, everything comes to light sooner or later, everything was cut, edited and modified, it is a big international plot in cooperation with the home enemies organized by SDSM and Zoran Zaev. Verushevski's testimony is a crowning evidence that there was no crime, no corruption, no thought of abuse of power, Gruevski declared to citizens. Everything was devised with a hellish plan, all charges and lawsuits, all this great dirty doctrine of domestic and foreign enemies, sorosoids, snitches and mercenaries, corrupt journalists and media in order to change the name of the country, to erase history and the country's glorious past, and to put the country and the people under a protectorate. The preparations for Gruevski's return were to begin immediately, with a worldwide demand and plea for forgiveness of our sins, if we could at all be forgiven for the evil we inflicted on him. Gruevski's welcome was supposed to be more imposing than the one he gave to Ljube Boskoski, but one secret message spoiled everything.
Such a film-like surprise Verushevski caused with his unfinished confession of post-truth. While he controlled the transport of the wiretapped conversations, everything was clean and untouched, all originals as it was stated. But after being deprived of his freedom and was imprisoned, many of the "documentation" experienced "terrifying modifications and compromises". After his testimony with the new truth, Gruevski and all former officials indicted for serious crimes were rescued. There was no election rigging, no ordering trials and convictions, no stealing and corruption, no cheap land on Vodno, no demolition of private property, no one peed his pants in his cabinet, no millions of Chinese road commissions, no corruption of the media, no wasting of the citizens' money, there was absolutely nothing illegal.
It really is a shame that Zoran Verushevski didn't announce this before. Gruevski would not have escaped. He would have been a free citizen and the prime minister we never had, nor will we ever have. Macedonia would've flourished in prosperity as a world champion in economic reform and democratic development. We would have saved the constitutional name of the state to remain an erga omnes for all uses both at home and abroad, we would not have lost our identity, we would have preserved Macedonian language and citizenship, we would have avoided humiliation by our neighbors, Goce Delchev and all Macedonian activists they would have been only Macedonian, and the Albanians and others more or less different, they would not have had everything given to them, the emigration of young people around the world would have stopped, we would have lived in great peace and harmony, we would have had a higher living standard and better quality of life. Instead of telling the truth, Verushevski immediately accepted for his credit a small and humiliating post to be an adviser to Prime Minister Zoran Zaev's cabinet, the biggest culprit in the fake "bombs" and illegally recorded daily conversations that were monstrously modified and compromised, although they were clean when Verushevski delivered them to SDSM, Branko Crvenkovski and later to Zoran Zaev. It a shame that they didn't lock him put then, the conversations would have been untouched.
While preparations for Gruevski's return are ongoing, several key witnesses, direct participants in the historical events, are expected to reveal the editing of the "Racket" affair. In this case, additional post-truth will prove that everything was arranged and created to bring down Zoran Zaev and compromise SDSM. Everyone is innocent, until proven guilty. In this case as well, without any evidence, major injustice was inflicted on the main and honest actors. There was no racketeering, no blackmail, no one took nor gave money. The money, like in all previous cases, is nowhere to be found. And once there is no money, there is no crime. There is no murder trial if there is no body. The fact that there are mansions, land property, factories, mines, hospitals, banks, yachts, planes… that doesn't apply. It is all earned honestly with a lot of work and smart thinking. It is just another fictional affair and conspiracy against Macedonia to prevent its membership in NATO, and to disable negotiations with the EU, as well as to annul the agreements with Greece and Bulgaria.
Basically, what can I tell you when you know that this is a wonderful country ruled by modest and honest politicians, great statesmen as if it were their own property, and where the rule of law and moral standards are at the highest levels of the world, almost without exception to the most senior officials we choose very responsibly. None of them have increased their wealth while their term is in office. They all became impoverished after leaving their properties and businesses and well-paid jobs alone to sacrifice themselves to their homeland. Is there any greater proof that people are innocent in all fictional scandals? Crime and corruption in this country are present only among the common people, among mortals who turn to their basic weaknesses due to poverty and misery.
So, you can feel that the delusion imposes itself, when there is no crime and culprits, and when there are only fabricated affairs, a universal reconciliation and forgiveness of sins should follow. We should pay great damages to all of the innocent ones who were convicted and accused wrongfully for the injustices they have suffered, the spiritual and physical pain we caused. And so let's start again from where we stopped, after hugging and kissing each other each other as brothers. We wasted so much bitterness and grief, so much hatred in the country Neverland for nothing. Well, finally, it is not so scary that some of them are bad at governing when they are in power and the other is worse in times when they are in power and in opposition.
Wait a minute… This just in. The leadership of VMRO-DPMNE is not thrilled with the return of Nikola Gruevski and the testimony of Zoran Verusevski. They say let him stay in Budapest for some time. This is not the right time for coming back. Why should he come back now, just because of one suspicious thing, when we just started getting better. He can't just come home and spoil everything, just when we finally got it all together.
The man started unpacking his suitcases, but he still sent a message to the Hippodrome to feed his white horse.
Views expressed in this article are personal views of the author and do not represent the editorial policy of Nezavisen Vesnik