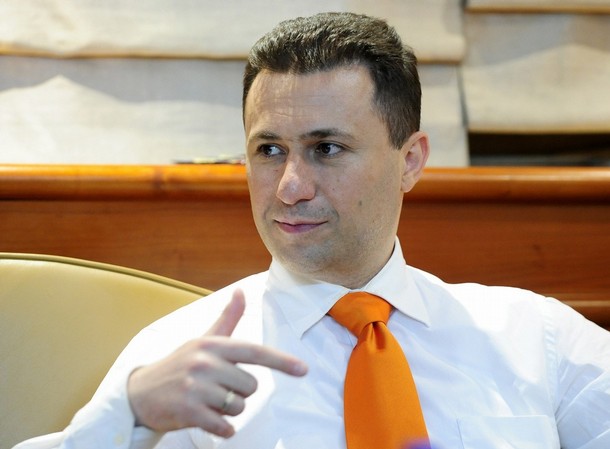 Skopje, June 28, 2013
Prime Minister Nikola Gruevski has declared that the international community is applying pressure toward FYR Macedonia in different forms in order find alibis as to why the country cannot be a member of the EU and NATO.
Gruevski has explained this according to his version in an interview for the Macedonian daily "Dnevnik". Gruevski has also mentioned the Albanian BDI party, whereby according to him, international community sends messages that this party may abandon the coalition.
"Pressure against us relating to the name contest with Greece has another form now and is manifested through negative reports for FYROM, but at the same time, this is an attempt to find an alibi for the country not to be a member of EU and NATO. This shows an inability and lack of will by big powers to solve this injustice of Greece toward us. They must find a guilty party for this", said Gruevski, adding that the entire world knows why FYROM could not become a NATO member and why it wasn't issued with a date for the start of negotiations with the EU.
According to him, this has happened because Greece doesn't like the fact that the identity of Macedonians hasn't changed and the name of the state hasn't change.
Gruevski has underlined that the international community finds it easier to put pressure on Skopje than to put pressure on Greece. He said that international pressure against the country used to be put in a direct way before, while now it's being carried out through different reports.
"If tomorrow we would accept the Greek stances for the name, all international institutions would immediately improve their opinion about human rights, media and judicial system in FYROM. Look how they changed their opinion toward Serbia. According to them, this country is a reformatory country now, as opposed to three months ago when it was not", said Gruevski.
On this occasion, Gruevsi explained that such pressure is sent through BDI, the Albanian political party of the coalition.
"They send us messages that BDI may leave the government at any time and that the government will fall after this. But I'm prepared about everything", said Prime Minister Nikola Gruevski. /ibna/