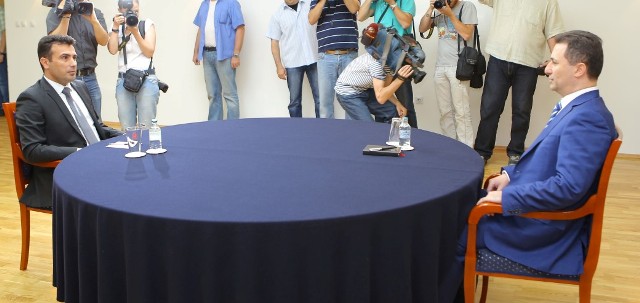 The political crisis in FYROM continues. This crisis has been associated with protests organized by civil organization "For a United Macedonia" in Skopje and other cities. The protests are held against the government coalition between social democrats and Albanian parties.
The leader of VMRO-DPMNE, Nikola Gruevski, declared during the weekend for regional media, that the crisis in FYROM can only end in two ways, which according to him, the party that he chairs has offered to the public opinion.
"One option is to hold early elections in the month of May along with local government elections, in which Zaev will come out with his platform and the second way is for Zaev to accept VMRO-DPMNE's offer to give up on the platform", Gruevski said. According to him, the platform of Albanian parties has been drafted in another state, namely, Albania.
But the leader of the Social Democratic Union (SDSM) said during a rally with women in Gevgelija that he is on the verge of forming a government, as this is guaranteed by the Constitution.
"We secured 67 votes in parliament and now we are on the verge of creating a government. They don't want to give up power and they find all sorts of reason not to give it up", Zaev declared.
Zaev has demanded from the president of the country, George Ivanov to respect the Constitution and mandate him for the creation if the government. However, Ivanov has not yet commented the calls sent out by political parties. Last week, he didn't mandate Zaev on the pretext that the candidate for PM has a platform drafted in another state and that this platform threatens the interests of the country.
The recent developments are also being aggravated with the protests held by "For a United Macedonia" civil organization, which is against the platform of the Albanian parties. In this platform, Albanian parties require that the Albanian language be made an official language in the entire country and other rights which are part of the Ohrid Agreement.
The former Foreign minister, Denko Malevski says that the country needs the aid of the international community in order not to allow the situation to get out of control.
"I don't see any other solution besides internal and international pressure against the president, in order for him to fulfill his constitutional obligation of finalizing the 11 December electoral process. Politicians owe this to the citizens and the international community", Malevski said.
Meanwhile, tension in FYROM remains high even after the visit of the EU high representative, Federica Mogherini, who is expected to report in Brussels today for the developments in the country. /balkaneu.com/