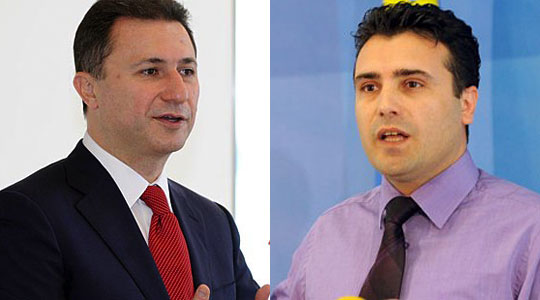 Skopje, May 30, 2014/Independent Balkan News Agency
By Naser Pajaziti
Prime minister of the country and leader of VMRO-DPMNE, Nikola Gruevski, demands 500 thousand Euros in compensation by the leader of opposition party LSDM (Macedonian Social Democratic League), Zoran Zaev. This amount is demanded by Gruevski for what he considers "lies relating to the case of Makedonska Banka".
Click here to see the audio-video recording
LSDM too confirmed this amount. Spokesman of LSDM, Petre Shilegov confirmed that the lawsuit filed by prime minister Gruevski demands 500 thousand Euros in compensation.
During the electoral campaign, leader of LSDM, Zaev published audio-materials where according to him, Gruevski and a middleman had struck a deal for the sale of "Makedonska Banka" to the Serb business Jovica Stefanovic, also known as 'Nini'.
The leader of the opposition accused Gruevski of unlawfully accepting 1,5 million Euros in cash from the sale of the shares that he had as a joint owner of the bank that was privatized during VMRO-DPMNE government in 1999, in a period when Gruevski was minister of Finance. According to opposition, Gruevski's unlawful act has damaged the state budget, as a result of the illegal transactions and tax evasion, which constitute a felony.
But Gruevski has rejected these claims, stressing that they are mere lies. His defense attorney says that on the June 19 court trial, testimonies will be provided to overthrow the allegations made by the head of Macedonian opposition. /ibna/
Corruption accusations addressed against Gruevski, how did he receive 1,5 million Euros from a Serb businessman