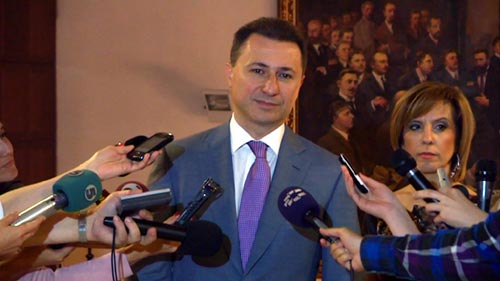 Skopje, June 3, 2014/Independent Balkan News Agency
By Naser Pajaziti
Leader of VMRO-DPMNE and the person mandated for the formation of the government, Nikola Gruevski, spoke today for the first time on the accusations launched against him about corruptive affairs. Gruevski was accused by the opposition in Skopje that in the sale of the "Makedonska Banka" bank, he benefited 1.5 million Euros in cash, thus breaking the law and committing a criminal offense.
Gruevski said that he has never received cash, adding that: "Never have I received 1.5 million Euros in cash or benefited anything on the sale of 'Makedonska Banka'. All the accusations launched against me are untrue".
Gruevski said that "the lies addressed by the leader of opposition, Zoran Zaev, will be verified in court".
"In order to shed light on the truth, I have filed charges against the leader of opposition for defamation. I want my image to be cleaned", said Gruevski.
During the April 27 election campaign, Gruevski was at the center of accusations by the opposition. He was accused of benefiting 1.5 million Euros in cash from the person who acquired the bank, the Serb businessman Streten Jovanovic-Nini in the case of the sale of 'Makedonska Banka' in the period 2005-2006.
Click here to see the audio-video recording
Gruevski held the majority of shares on this bank. At that time, he had put these shares on sale. The process of sale took place several months before he came in power in the summer of 2006.
Until 2000, 'Makedonska Banka' was owned by the state. After that, the government privatized it. The majority of its ministers, where Gruevski was minister of Finance, had purchased a large number of the shares. /ibna/
More: Gruevski demands 500 thousand Euros in compensation by Zaev