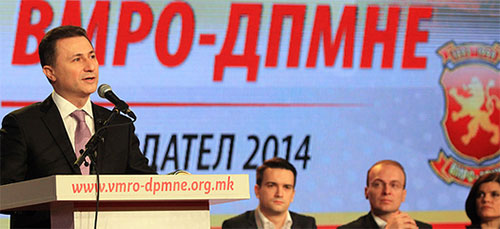 Skopje, March 25, 2014/Independent Balkan News Agency
By Naser Pajaziti
Prime minister and leader of VMRO-DPMNE, Nikola Gruevski declared today that Albanians will not allow Democratic Union for Integration (BDI) to deprive them of their right of vote in the presidential elections.
With this, Gruevski has commented the campaign launched by BDI to boycott the presidential elections following the failure to come up with an acceptable candidate for all communities.
"Albanians in Macedonia will not allow to be deprived of their right and to be held to ransom by Ahmeti and his entourage".
Gruevski said that BDI didn't like Ivanov, because he's not a president who makes compromises at the detriment of Macedonian interests.
"Do you know why BDI doesn't like Ivanov? Because he doesn't make compromises when it comes to the interests of the Macedonian people. It has nothing to do with the fact that he wasn't a consensual candidate, because they very well know that he was a suitable president for everyone. For this reason, Ivanov will be voted by the majority of Macedonians", said Gruevski. /ibna/