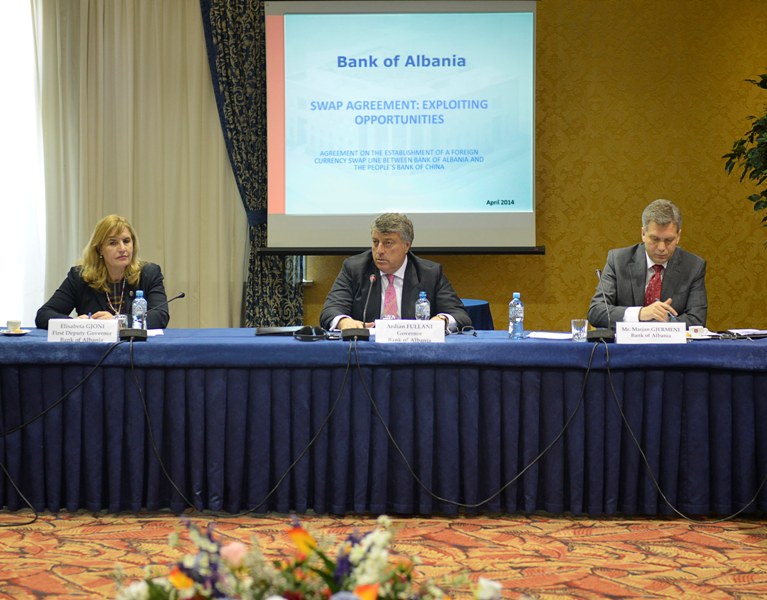 Experts say that the expansion of the financial market through this agreement aims to facilitate the access of the government in a new market of debt and finance
Tirana, April 3, 2014/Independent Balkan News Agency
Bank of Albania and Central Bank of China have signed the SWAP agreement for the exchange of mutual national currencies (photo). The agreement is encouraged by the significant growth of the impact of the People's Republic of China in the global economy and in the international financial system.
SWAP financial instrument offers an opportunity for the exchange of our national currency with the Chinese national currency, RENMINBI, in an amount equivalent to 250 million Euros. Albanian banking system can have access in the RENMINBI funds with the only scope to further boost commercial and financial relations between the two countries.
In spite of the differences that exist in terms of quantity between the economies of Albania and China, Bank of Albania says that commercial exchanges with China will further grow in the period to come.
China ranks third as far as the origin of Albanian imports is concerned (after Italy and Greece) and is a very important station for Albanian exports. Last year 5% of Albanian exports went to the Chinese market and 6.7% of our imports came from China.
Bank of Albania says that the exchange of currencies will have a positive impact in the expansion and commercial exchanges between the two countries.
Governor of the Bank of Albania, Ardian Fullani says that this agreement will have a positive impact on the expansion of the financial market in Albania.
"Economy, its agents, including financial institutions, are being offered a very good opportunity to jointly contribute in boosting up economic activity, lending in the economy and to improve Albania's financial system", says Mr. Fullani.
Through this, Bank of Albania becomes one of the first European central banks that sign the agreement. It has joined a group of central banks from non European countries which have signed such agreements with China.
Experts say that the expansion of the financial market through this agreement aims to facilitate the access of the government in a new market of debt and finance, which would offer a new basis of buyers, by diversifying government financing sources. /ibna/