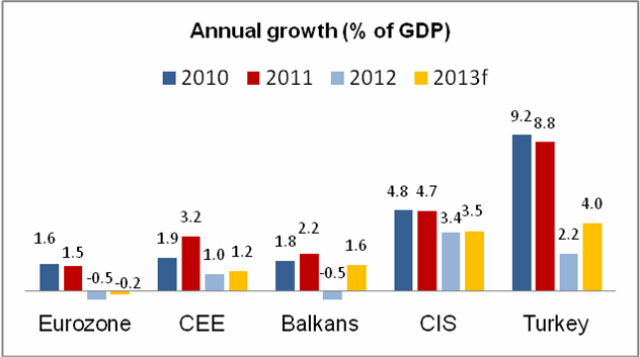 Washington, April 23, 2013
Most economies in the Europe and Central Asia (ECA) region grew in 2012, with an average growth rate of 2.5 percent, and are expected to grow in 2013at a slightly higher rate of about 2.9 percent,World Bank officials said at a press briefing during the World Bank/IMF Spring Meetings 2013.
Recovery in ECA will continue to be the slowest comparedto other regions in the world, and will be multi-speed, with the western part of the region growing at a much slower pace than the eastern part. Protracted recession and slow growth recovery further aggravate the persistent unemployment in some parts of the region, which in turn has long-term implications for the region's competitiveness and social inclusion.
"Since the crisis, we see a multi-speed recovery in the region," said Philippe Le Houérou, World Bank Vice-President for the Europe and Central Asia region."As a rule of thumb, the closer the countries are to the Euro area, and in particular to Southern Europe, the stronger they feel the impact, as their economies rely more on the Euro area as an export market and the main source of banking flows, foreign direct investments and workers' remittances."
An uncertain environment and continued recession in the Euro area pose challenges to the ECA region through three channels: finance, trade, andworkers' remittances. Central and Eastern Europe (CEE)  and the Western Balkans , which have the closest links to the Euro area, are considerably lagging behind Turkey and the Commonwealth of Independent States (CIS) .
According to World Bank projections for 2013, countries of the CIS are expected to grow at about 3.5 percent and Turkey at about 4 percent, while in CEE and the Western Balkans growth will remain anemic at 1.2 percent, which is only slightly higher than 0.9 percent growth in 2012.
This multi-speed growth is reflected in fiscal and financial trends in the region.
Budget deficits have been shrinking (from 5.5 percent of GDP in 2008 to an average of 3.4 percent in 2012 in CEE; and from an average of 4.5 percent of GDP in 2008 to an average surplus of 0.3 percent in 2012 in the CIS), but the measures to bring about this fiscal adjustment have become increasingly difficult. Some of these adjustments became possible thanks to improved efficiency and better targeting of the social protection expenditures, which also helped prevent an increase in poverty in most countries.
Since the crisis, public debt levels have risen in most parts of the region, except for Turkey. Average public debt for CEE and the Western Balkans has increased from 28.3 percent in 2008 to 45.5 percent in 2012. Public debt is at potentially risky levels in several countries of the region (Hungary – 76 percent, Albania – 62 percent, Poland – 56 percent, Serbia – 54 percent, Croatia and Slovenia – 53 percent), and poses a heavy burden on public finances.