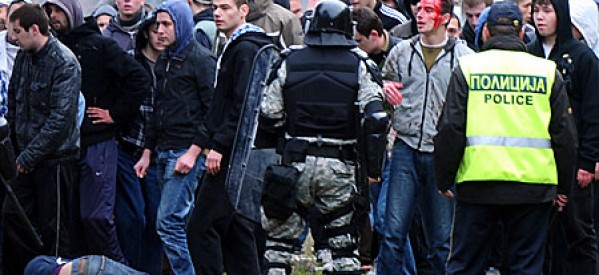 IBNA Special Report
Skopje, May 19, 2013/Independent Balkan News Agency
By Naser Pajaziti
In the former Yugoslav Republic of Macedonia, cross ethnic incidents continue. Organizations for human rights and the citizens are worried about the growth of these incidents which have a political background.
The main cause of the growth of these incidents is the constant spreading of cross ethnic hatred.
Racial writings against a given community, on the walls of multi-ethnic cities, racial and insulting chants in stadiums and physical clashes between Albanian and Macedonian young people in schools, are a problem which is not coming to an end.
State institutions and government officials say that they're working to prevent these incidents and scenarios that ruin the image of cross ethnic harmony in the country.
Non government associations say that little is being done in this direction. According to them, political class is manipulating and using these incidents, making them part of their political agenda.
Helsinki Committee, worried about the growing incidents
Helsinki Committee for Human Rights and Liberties has released a report where it expresses concerns about the growth of incidents, caused by cross ethnic hatred.
Uranija Pirovska, head of the Helsinki Committee says that this year, 55 incidents have been caused as a result of hatred and that these figures are worrying.
"The majority of them have been incidents that relate to ethnicity and they've been present especially among young people. I can say that the state is manifesting a will to stop such incidents, especially when it comes to ethnicity related incidents. This also shows the tension that there exists, but in a way, this tension is also covered or ignored", says Pirovska.
According to her, the lack of measures to reduce these problems "is very dangerous for the situation of Macedonia, because we are dealing with a multi-ethnic and multi-cultural country".
On the other hand, Pirovska also identifies "the growing number of incidents due to political and religious causes and incidents relating to sexual motives." The Helsinki Committee says that the Ministry of Interior has been informed on all incidents and it has always responded that all measures have been taken.
"But, the ministry has not revealed what measures have been taken and what criminal proceedings are under way against the authors", says Pirovska.
Ministry of Interior: We're shedding light on the cases of violence
Ministry of Interior says that measures are being taken to prevent cross ethnic incidents and violence, especially among young people.
The spokesman of this ministry, Ivo Kotevski told IBNA that these cases are being investigated. According to him, all incidents taken place in the past have been resolved.
In contrast to 2013, this year, there have been fewer incidents. According to the information of the Ministry of Interior, in 2013, 109 incidents have been registered in schools, sport environments, city streets and urban transport.
Criminal charges have been brought against 21 persons, on suspicion of murder attempts, severe body injuries and physical violence. There have also been charges against 120 other people who are suspected of participating in incidents. But, the ministry of Interior doesn't want these incidents to be seen in the prism of cross ethnic relations. It appeals for the media not to report in such way as to point out the ethnicity of the persons involved in these incidents.
NGOs: There must be general mobilization
Center for Cross Ethnic Tolerance has been involved in different projects of cohabitation. This center says that these measures are not sufficient for the elimination of such phenomena. According to them, there must also be activities by schools, parents and other factors of the state.
"More work should be done and more preventing measures should be taken by schools with students, teachers and their leaders, because media campaigns will not be able to offer the expected results if the work is not expanded in such way. As a center for cross ethnic relations, we have taken measures especially in sensitive areas, there where there have been incidents and I believe that there have been results", told Vllado Dimovski from the Center for Cross Ethnic Tolerance to IBNA.
Citizens say that incidents of this nature are orchestrated by nationalist groups and clans who have manipulated youngsters in with their spirit of hatred. "These incidents are organized by groups who do not want ethnic harmony and order. We know that these groups are also known to police and these are football fans that are involved in cross ethnic incidents", told Selvije Ademi, a student from the State University of Tetovo to IBNA.
Cross ethnic incidents have also  been mentioned in the reports of different international institutions. These institutions have demanded a higher involvement of the state to put the situation under control. /ibna/