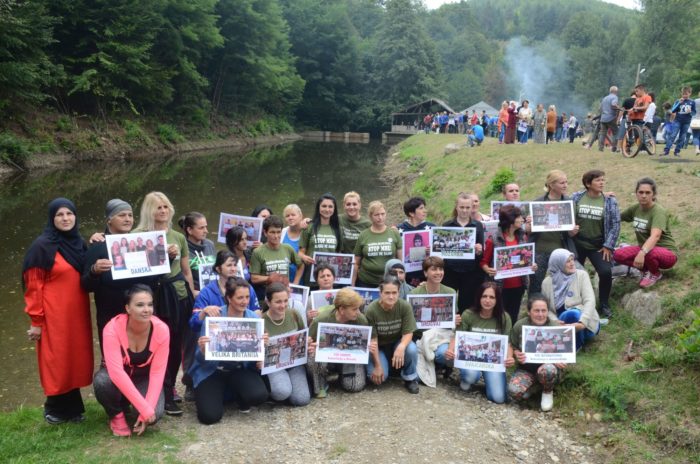 A few years ago, a group of women from the small village of Kruščica, in Central BiH, blocked the local bridge to prevent the construction of two small hydropower plants on a nearby river. What, in that time, seemed impossible became a story about the stubborn defence of the river that ended with the women's victory.
The good news for them came from the court decision to stop all activities on the river but, as they say, the battle is still ongoing. Recently, their efforts were recognized by several organizations and one of them, EuroNatur Foundation, announced that the "Brave Women of Kruščica" won the annual award. Foundation said that, for more than 500 days and nights, a group of women from the village of Kruščica blocked a bridge crossing the river of the same name, thereby preventing two hydropower plants from being built.
"Believing that women would not be attacked by the security forces, it was only the women from the village of Kruščica who blocked the bridge over their river from August 2017 to December 2018. Neither police violence nor attempts at intimidation by the investor could make the courageous women give up defending their river. It was only shortly before Christmas 2018 that the women decided to leave the bridge", said the Foundation in its explanation of the award.
It was recalled that the competent court had supported the objections against the planned hydropower plants, bringing the peaceful 18-month protest of the women of Kruščica to a happy end for the time being.
"The courage and perseverance of these brave women is impressive and a role model for the work of EuroNatur and its partner organisations in fighting the hydropower lobby in the Balkans", EuroNatur president Christel Schroeder explains why they have been elected to receive this year's award. The "brave women of Kruščica" thus rank among personalities like the US best-selling author Jonathan Franzen or the Romanian forest conservationist Gabriel Paun. All of them received the EuroNatur Award for their exemplary commitment in protecting the European natural heritage.
Among the residents of Kruščica, who stayed in an improvised tent near the river from August 2017 to December 2018, were Advija Trako and Nedina Bešo. Even today, they have vivid memories of the day when, together with a group of women, they confronted the police and with their own bodies blocked the bridge to stop a contractor.
"A truck with a machine started. I first sat in front of that truck. The driver said: 'Get away, I have to go'. 'You don't have to pass', you will not pass', there will be no construction here'", I replied. I have enough strength and courage to do the same again. I am not afraid of anything", Trako said.
She added that the police were beating them but that "this created defiance".
According to the BiH Coalition for Protection of Rivers, there are more than 80 hydroelectric power plants in Bosnia and Herzegovina, and the construction of an additional 300 is being planned. The Coalition warns that the state has no need for new hydropower plants and that only investors gain benefits from them./ibna