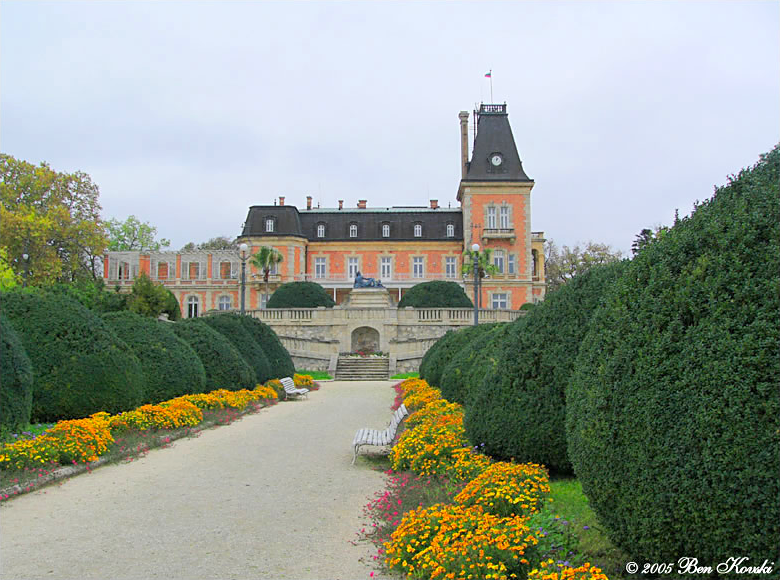 By Clive Leviev – Sawyer of The Sofia Globe
In the latest move to maintain the momentum of anti-government protests in Bulgaria, a group is planning to "occupy" the 19th century Euxinograd former royal palace used by members of the government and parliament as a holiday retreat.
Fishermen and owners of boats reportedly are ready to help the anti-government protesters, fed up with struggling daily to make ends meet while politicians at the palace take their leisure lavishly and eat at low prices.
This emerged on the eve of the 47th day of anti-government protests in Bulgaria, which are being held to demand the resignation of the Bulgarian Socialist Party government and new elections under a reformed electoral system.
The anti-government protests have been largely peaceful, with the exception of the night of July 23, when there was a clash between police and protesters when an attempt was made to force a busload of MPs through a crowd of protesters. Controversy about that incident continues to deepen with theories online that it was a deliberate provocation by the authorities.
Current hot weather in Bulgaria has not deterred the anti-government protesters, but it has long been an issue whether the momentum can be maintained in August, the traditional peak of the summer season. It appeared that the government, which refuses to resign, has been hoping that protests would dissipate as people went to the seaside and as the weather grew uncomfortably hot in Bulgaria's major cities.
Bulgaria's Parliament has voted itself a holiday of about a month, and it is customary for Euxinograd to fill up with politicians.
Online, the idea emerged for anti-government protesters to gather on August 5 on land and at sea to demand the resignation of the Bulgarian Socialist Party – Movement for Rights and Freedoms government and to demand that Bulgarian citizens finally have free access to the Euxinograd residence itself.
One idea is that the "occupation" takes place not only by land and by sea, but also by air. Bulgarian site Mediapool quoted a member of the "Occupy Euxinograd" group as calling for assistance from owners of fishing vessels, trawlers and parachuting clubs for assistance.
Local media reports said that some members of the government had given up on holidaying at Euxinograd this year. Instead, they would go to Turkey, where the report said, they also could holiday cheaply – and no one would bother them with calls for them to resign.