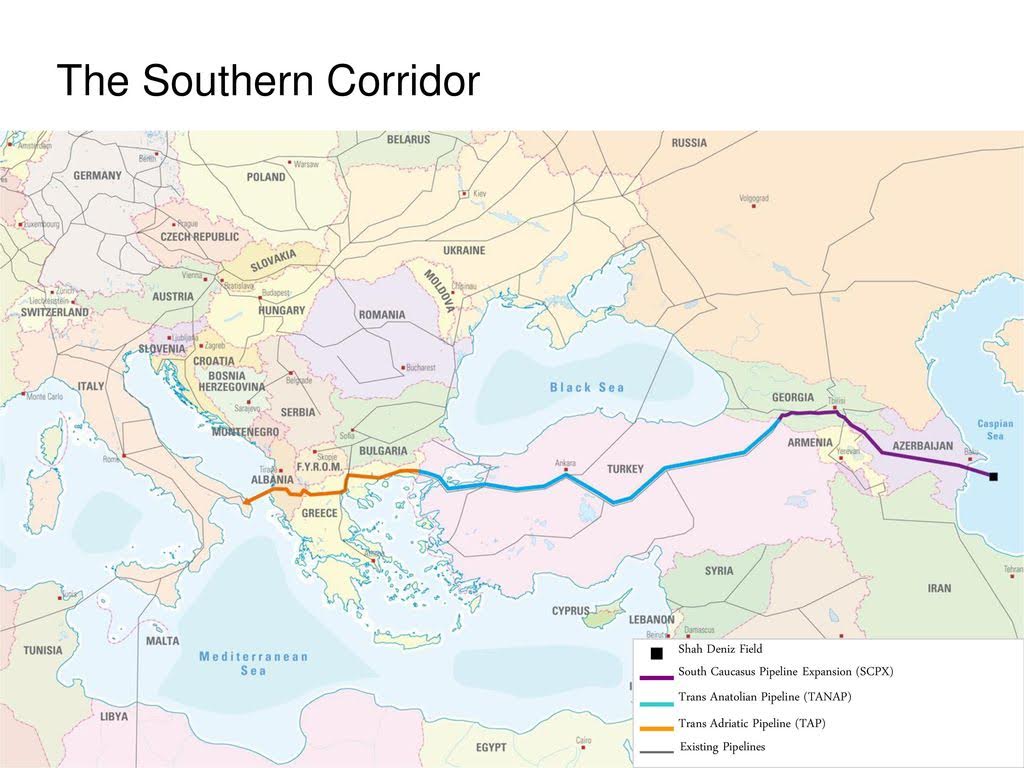 The "new energy map of Europe" is a fact, according to Azerbaijan President Ilham Aliyev, who made this statement at the inauguration in Baku of the first section of the famous "Southern Corridor", the network which, by releasing Europe from the Russian gas, will supply natural gas from Azerbaijan to European markets.
With the symbolic move of the pipeline opening at the Sangachal gas terminal, Azerbaijan's President gave the 'go ahead' of one of the most important projects the EU has backed in the energy sector, marking at the same time the end of an era, as the Azerbaijani energy game that was in progress is now coming into action.
The Azeri natural gas from the second phase of the Shah Deniz deposit in the Black Sea until reaching Italy will cross the territories of Georgia, Turkey, Greece, Albania and will pass through the Adriatic Sea through the South Caucasus Pipeline (SCP), Trans-Anatolian Natural Gas Pipeline (TANAP) and Trans-Adriatic Pipeline (TAP).
The cost of implementing the Southern Corridor is estimated at 40 billion dollars.
About 10 billion cubic meters of natural gas are expected to boost European industry by 2020, with 6 billion cubic metres of gas Azerbaijan feeding Turkey.
Criticism is exercised against the EU because, in view of the economic and geopolitical benefits of the Southern Corridor, it overlooks the violation of human rights in Azerbaijan.
However, Moscow, which has reached an agreement with Ankara on the construction of the Turkish section of the Turkish Stream natural gas pipeline, is expected to take similar steps to achieve its own energy goals and geopolitical plans to transport, under the Black Sea, about 31 billion cubic metres of Russian natural gas into Europe.
The co-operation protocol signed by Russian Gazprom and Turkish Botas finalises the implementation of this project, as detailed terms and conditions for the construction of the Turkish Stream pipeline have been noted; the project is being undertaken by the newly formed TurkAkim Gaz Tasima AS.
The first leg of the pipeline is expected to supply Turkey with Russian gas, while the natural gas that will pass through the second leg of the pipeline will end up in SEE countries.
Moscow plans to connect the Turkish Stream pipeline with the Poseidon pipeline, a planned gas pipeline from Greece to Italy, designed by IGI Poseidon SA, a consortium of Greek DEPA and its of the Italian Edison S.p.A.
On 2 June 2017, Gazprom, Edison and DEPA signed a co-operation agreement to implement this project, and on 25 May 2018, on the occasion of the St Petersburg International Economic Forum 2018 (SPIEF '18), the Gazprom chief, Alexey Miller, and the French EDF Group Gas and Italian Edison's Marc Benayoun, confirmed their interest for the Poseidon pipeline…. / IBNA