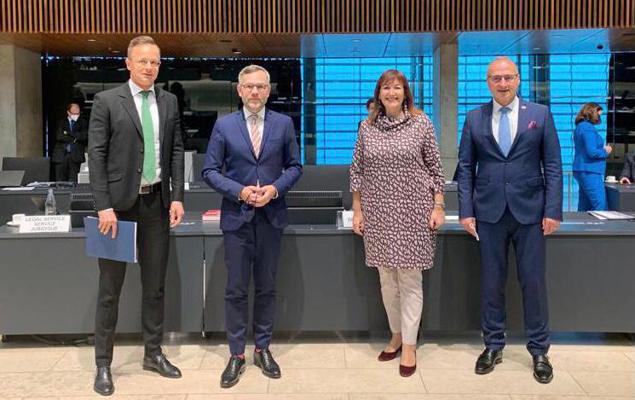 North Macedonia and Albania have met all the criteria to open accession talks as soon as possible, and Kosovo deserves visa liberalization, Croatian Foreign Minister Gordan Grlić Radman said in Luxembourg on Tuesday.
"Albania and North Macedonia have met all the criteria and we believe that accession negotiations should be opened with them as soon as possible," said Minister Grlić Radman upon arrival at the General Affairs Council meeting.
The General Affairs Council, made up of member states' foreign or European affairs ministers, on Tuesday is discussing preparations for the upcoming EU summit in Brussels on Thursday and Friday, migration, enlargement and the Stabilization and Association Process in Luxembourg. The Portuguese Presidency will report to the Ministers on the work of the Conference on the Future of Europe.
One of the most important points is the debate under Article 7 on the rule of law in Hungary and Poland. Intergovernmental accession conferences with Serbia-Montenegro will be held on the sidelines of the General Affairs Council but without opening or closing any chapters. So-called political intergovernmental conferences on accession are a new phenomenon that did not exist before and are foreseen by the new methodology of EU enlargement negotiations.
Minister Grlić Radman said that Kosovo should get visa liberalization as soon as possible and that Croatia strongly supports that.
Croatia would like to discuss the candidate status of Bosnia and Herzegovina as soon as possible, said Minister Grlić Radman and once again stressed the need to change the electoral law in that country in order to ensure the equality of all three constituent peoples.
On Monday, Grlić Radman participated in the meeting of the EU Foreign Affairs Council. After meeting, he said that the European Union supports the democratic transition and pro-democracy forces in Belarus, against whose regime the fourth round of sanctions has been imposed.
"The EU will support pro-democracy forces, primarily civil society and vulnerable groups in Belarus," said Minister Grlić Radman after the meeting of EU foreign ministers.
Belarus was one of the topics on the agenda of the ministerial meeting, at which Belarusian opposition leader Svetlana Tikhanovska was also a guest.
EU foreign ministers decided on Monday to impose sanctions on 78 individuals and eight legal entities from Belarus for serious human rights violations, repression of civil society, the democratic opposition and journalists.
The ministers also discussed relations with Russia, with which the EU currently has very bad relations.
"Relations are not what we would like to have, but the responsibility for mutual security directs both sides to communication," said Minister Grlić Radman, reaffirming the EU's approach to Moscow, which on the one hand envisions condemning unacceptable Russian moves and emphasizing the need to the door to dialogue must be left open./ibna