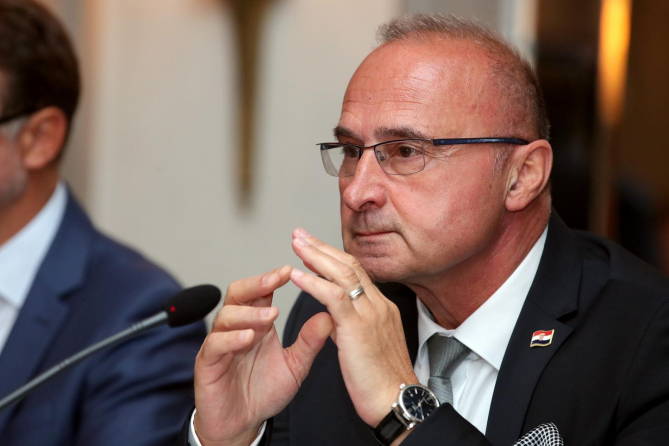 The handover of Ban Josip Jelačić's birth house to the Croatian community in Vojvodina is a step forward in relations between Croatia and Serbia, but should not be the culmination of Vučić's administration, said Croatian Minister of Foreign and European Affairs Gordan Grlić Radman in Vukovar today.
The purchased and renovated birth house of Croatian Ban Josip Jelačić will be handed over to the Croatian community on Friday in Petrovaradin.
"It will be a step forward in the Croatian-Serbian debate on the Croatian community's place in Vojvodina", Grlic Radman told reporters from the Homeland War Memorial Cemetery in Vukovar, where he participated in the commemoration of the 29th anniversary of Major General Blaga Zadar's death.
The ceremony of handing over Jelačić's house to the Croatian community will be attended by Serbian President Aleksandar Vučić and Grlić Radman, as an envoy of the Croatian Prime Minister.
Grlić Radmana added that this would symbolically connect Croats from Vojvodina with Zagreb, "a spiritual, cultural, traditional connection", which however "should not be the culmination of Vučić's administration in relation to Croats".
Grlić Radman announced that he would raise the issue of the 1,869 Croats who went missing in the Homeland War and the position of Croats in Serbia.
"We as people do not remain indifferent, and moreover as officials, politicians and representatives of the Croatian government are responsible to find out the fate of the missing. It burdens our relations, it seems to me that it is the most important point we will discuss, alongside the position of the Croatian community in Serbia", the Croatian minister pointed out.
Grlić Radman stressed that Croatia "in the European context constitutes an example to all countries" in terms of regulating the status of minorities.
He reminded that Croatia guarantees three seats in the Croatian Parliament, that Serbs are coalition partners and that Croatia wants "equal treatment" for Croats in Serbia.
The Croatian minister also called for a "dignified manner" to mark camps in Serbia where Croats were tortured, as the Serbian president has previously expressed readiness.
Grlić Radman pointed out that it is important to engage in dialogue about that and "offer justice for the prisoners".
He noted that all the mentioned issues were in the common interest of Serbia "which is on the European path" and Croatia "which can benefit from preserving a stable and secure neighborhood".
"We support every effort by every country in the Western Balkans on its European path", the head of Croatian diplomacy added. /ibna