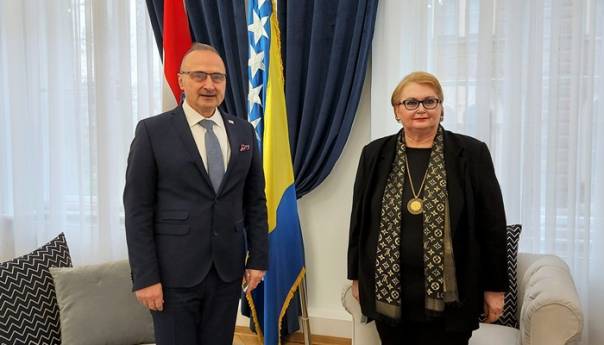 Croatian Foreign and European Affairs Minister Gordan Grlić Radman and Bosnia and Herzegovina's Foreign Minister Bisera Turković agreed in Sarajevo on Wednesday to strengthen cooperation between the two countries and gradually address outstanding issues.
They also underscored that good neighbourly relations had no alternative.
The Croatain Ministry of European and Foreign Affairs noted in a press release that Grlić Radman met with Turković during his official visit to Bosnia and Herzegovina, with the meeting lasting twice as long as planned, which both ministers said was proof of how successful it had been.
Grlić Radman said there was no doubt that Croatia was Bosnia and Herzegovina's friend and that it would continue to be in the future.
He said the Croatian government's decision to donate coronavirus vaccines to Bosnia and Herzegovina was proof of that, as this was a way to show solidarity with the needs of its citizens.
"We will deliver that vaccine soon," said Grlić Radman, explaining that the exact number of doses will be determined later.
Grlić Radman reiterated the support for the integrity of Bosnia and Herzegovina as a state of three constituent peoples and all its citizens, saying that Croatia remained a strong advocate of the country's Euro-Atlantic path and adding that this was why he had presented the Croatian initiative to the EU Foreign Affairs Council, which aimed to help Bosnia and Herzegovina gain candidate status for membership in the Union.
"The non-paper explains this initiative, and I explained to Minister Turković what it was about," Grlić Radman said, rejecting BiH media claims that Croatia was attempting to interfere in the country's internal affairs in any way. He said that Croatia's non-paper only served to strengthen Bosnia and Herzegovina.
Minister Turković expressed satisfaction that she "managed to analyse and voice everything necessary" with Grlić Radman, adding that she believed they had agreed on compromise formulas for resolving outstanding issues and further strengthening interstate relations.
As she stressed, new ways of cooperation in the fight against the pandemic were presented, including vaccination and easing conditions for crossing the Croatian border for citizens of Bosnia and Herzegovina, especially during the summer season.
They also clarified the issue of the possible construction of a radioactive waste landfill on Trgovska Gora, which will be discussed by expert working groups in the future, with Grlić Radman explaining there was nothing illegal in the construction of a gas pipeline from Croatia to the Bosanski Brod oil refinery.
Ahead of the talks with Turković, Grlić Radman met with the international community's High Representative Valentin Inzko, who underlined that Bosnia and Herzegovina had many friends who, however, cannot solve its problems, as this a task for its politicians.
Inzko thanked Grlić Radman for "all the constructive steps Croatia has taken in regard to Bosnia and Herzegovina's journey toward European integration."
Grlić Radman also met with RCC Secretary General Majlinda Bregu and visited the Islamic Community, where he held talks with its Raisu-l-Ulama Husein Kavazović. The minister also paid a visit to the Archdiocesan Chancery, where he met with Archbishop of Vrhbosna Vinko Puljić. /ibna