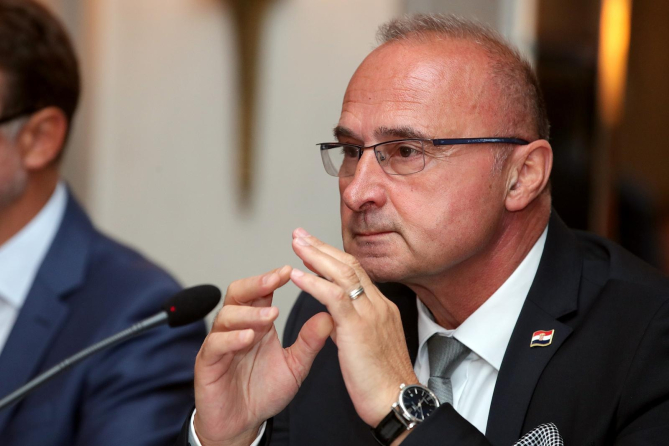 Croatian Foreign Minister Gordan Grlić-Radman said on Wednesday that his Serbian counterpart Nikola Selaković's response to a Croatian letter of protest over threats against Croats in Vojvodina was "unprecedented in diplomacy" and was "neither European nor good-neighbourly."
"We waited for several days for the Serbian authorities. They did not respond nor condemn those personal threats directly sent to Croat community websites and e-mail addresses," Grlić-Radman said on Wednesday on Croatia's state radio HR.
"The Croat community did not receive the support of the Serbian authorities, so it turned to Croatia," he added.
On Saturday, Selaković called Croatia's letter of protest "one of the most stupid and pointless notes I have received to date" because, as he said, Croatia was complaining about ugly outbursts on social media, while at the same time Croatian media were making "the most monstrous and brutal insults" against Serbia's top politicians, notably President Aleksandar Vučić.
Grlić-Radman said on Wednesday that the letter was not just about random comments made on social media but was addressing direct threats, adding that Selaković's response "is unprecedented in diplomatic practice."
"The fact that the Subotica authorities arrested afterwards one or two citizens shows that our letter made sense. It was also welcomed by Croats in Vojvodina," he said, adding that Selaković's statement "is not conducive to the advancement of our relations" and was "neither European, nor good-neighbourly either."
"If Serbia wants to join the European Union, it certainly can't continue with this narrative," Grlić-Radman said, adding that building good-neighbourly relations calls for solving unresolved bilateral issues, such as the issue of missing persons from the 1991-95 war and the status of the ethnic Croat minority in Serbia, which does not enjoy the rights of the Serb minority in Croatia.
The last Zagreb-Belgrade dispute erupted on 4 March when the Subotica City Council adopted a decision to change the city statute and initiated the introduction of Bunjevci as the official language in this city in the northern province of Vojvodina, despite objections from the Democratic Alliance of Croats in Vojvodina, the Croatian National Council and the Institute for the Croatian Language.
The ethnic Croat community in Serbia considers the Bunjevci idiom just a dialect spoken by ethnic Croats in the northern Bačka region of Serbia and not a language in its own right.
Croats in Serbia's northern province of Vojvodina called on Serbian authorities to apply the same logic used by the Subotica City Council – the percentage of the population represented – and introduce Croatian as a co-official language throughout Vojvodina.
The Croat community started receiving threats afterwards, which prompted Croatia's letter of protest. /ibna