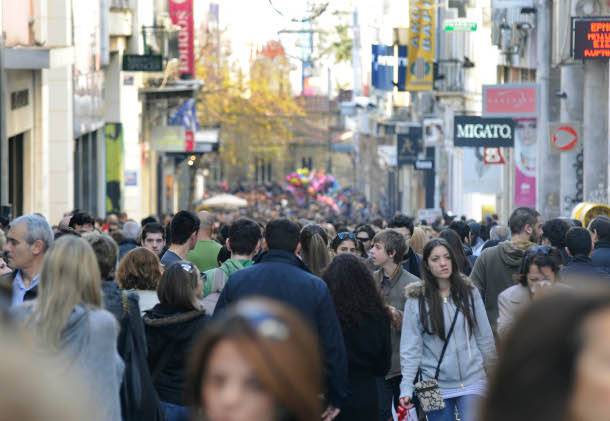 By Spiros Sideris – Athens
67% of Greeks and 31% of Europeans characterise the condition of their household poor to very poor, according to research conducted by the Eurobarometer, for the period May 31-June 14, which was released today in Brussels.
However, compared to the previous Eurobarometer in November the negative responses both in Greece, and the EU have dropped by 4%.
Regarding employment, 98% of the Greeks (-1% compared to the previous Eurobarometer) characterize the situation bad, while the EU average was 74% (-4%).
Regarding their professional status, Greeks 48% (-8) characterize it as poor, while 30% (+8%) appear satisfied. Instead, in the EU the positive responses 56% (+2%) clearly outweigh the negative ones 26% (3%).
When asked in what direction their country is moving, 70% (-11%) replied that Greece followed the wrong track, while only 15% (+6%) of respondents believe that it's moving in the right direction. In the EU, 28% believe that things are going in the right direction and 47% in the wrong.
Asked to predict how the state of the economy over the next 12 months, 17% (+4 points since the last survey) believe that it will be better, while 49% (-14) argue the opposite. In regard to their household's financial situation next year 14% (+2 points) argue that it is better and 38% (-14 units) worse.
On the employment conditions for next year, 16% (+5%) predict an improvement and 51% (-19%) a deterioration. 56% of the Greeks and 32% of EU citizens feel they are at risk of poverty.
Sighting the two major problems the country is currently facing, 63% of the Greeks rank unemployment first followed by the economy with 48%.
Moreover, their trust in government state 16% of the respondents (an increase of 6 points compared to last year), while 84% answered negatively (down by 3 points).
In the EU, 27% ​​(+4%) have confidence in their government and 68% (-4%) do not.
In regards to political parties, 91% (-3%) of the respondents in Greece say they have no confidence in them, with 9% (+5%) answering positively.
To the Parliament place their confidence 16% (+4%) of the Greek public, while to the regional and local authorities 31% (+8%).
Furthermore, 20% (+2%) of Greeks are satisfied with the way democracy works in the country and 80% (-2%) dissatisfied. In the EU, the corresponding rates are 50% (+4%) and 48% (-4%).
A "good" quality of life state to have 26% of the Greeks (56% in the EU), 74% (42% in the EU) viewing their quality of life as "bad".
Finally 95% of the Greeks and 88% of the EU citizens support the need for reforms, while 64% of Greeks and 78% of Europeans believe that there should be measures for the reduction of deficits and debt.