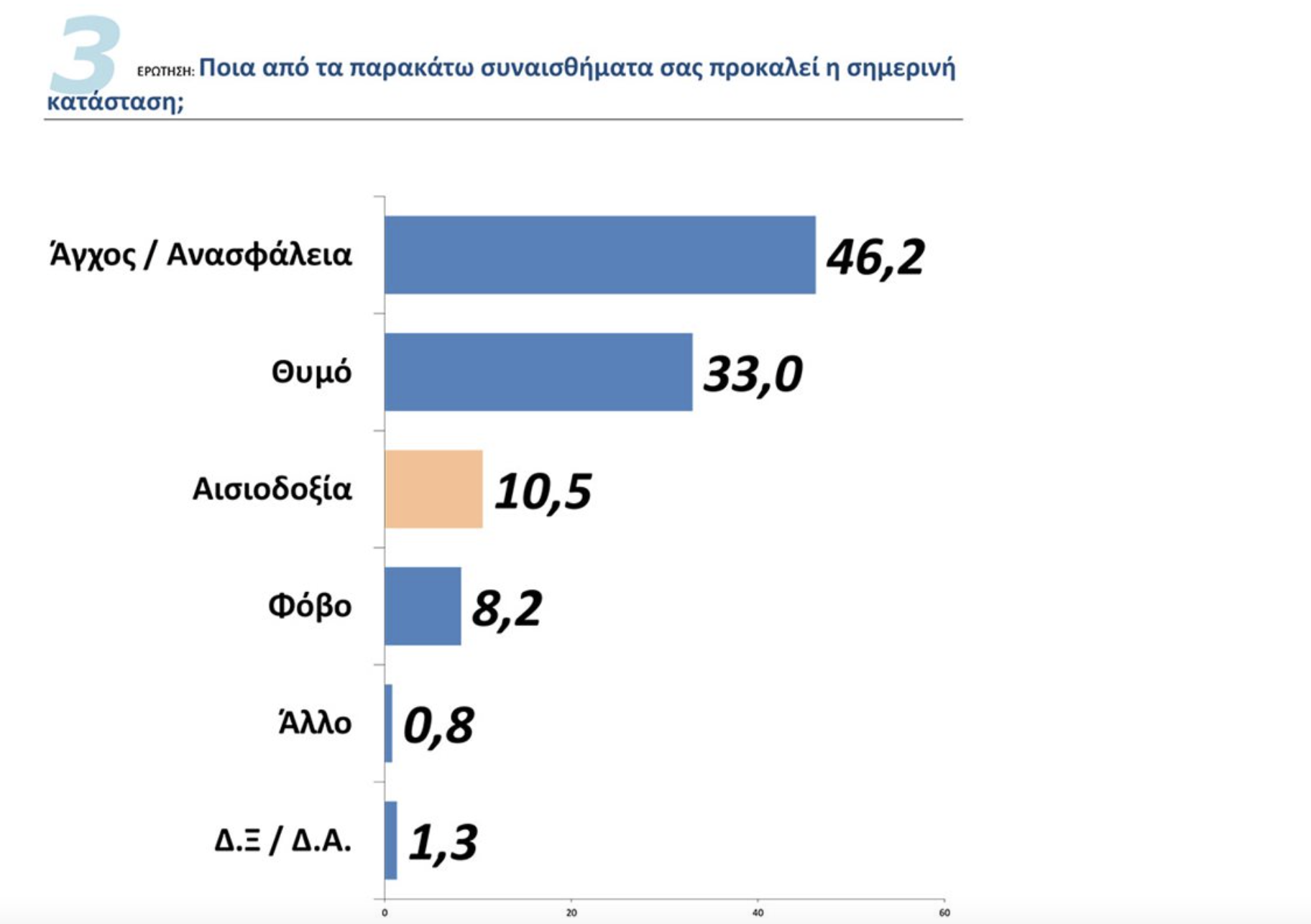 Greeks appear pessimistic, according to the GPO company survey on the social and political situation in Greece, which was conducted in the last week of March and was made public on Friday, April 9, 2021.
The outbreak of the coronavirus epidemic, combined with the official forecast for the acquisition of the "wall of immunity" in the middle of summer, but also the economic crisis that is hitting more and more households, leads 50.1% to believe that this year, things will take a turn to the worse, while the percentage of those who believe that "things will get better" reaches 32.9%.
In addition, anxiety and insecurity are recorded as the dominant emotion of citizens in this period with 46.2%, followed by anger with 33%, optimism with 10.5% and fear with 8.2%.
Respectively, 38.5% believe that their financial situation will deteriorate in 2021, while only 13.9% believe that it will improve. A majority of 46.7% estimate that their financial situation will remain the same.
When asked what they consider to be the political physiognomy of the parties, the citizens consider New Democracy to be right with 55.3% and center-right with 34.6%.
SYRIZA is considered a center-left party with 40.4% while 38.9% of respondents see it as leftist. 39.1 of the citizens consider KINAL to be a center party, with 23.2% viewing it as center-left.
Kyriakos Mitsotakis is considered to be right by 51.2% and center-right by 34.5% of the citizens. SYRIZA leader Alexis Tsipras is considered leftist by 44% while 38.2% view him as center-left. Fofi Gennimata is viewed by 44% to be a centrist, while 21.5% view her as being center-left and 20.5% center-right.
Kyriakos Mitsotakis has shifted to the right, according to 62% of the respondents, according to the GPO survey, with 48.5% saying definitely yes and 13.5% probably yes.
In addition, 64.8% of the respondents, regardless of what they vote for, want New Democracy to shift to the center, while 10.9% to the right and 16.9% believe that it should not shift.
On the other hand, 35.7% believe that SYRIZA should move to the left, 34% to the center and 17.4% do not want to shift its political orientation.
When asked how likely it is to vote for New Democracy, SYRIZA or KINAL, participants said 23.6% for New Democracy, 15.7% for SYRIZA and 5.9% for KINAL.
52.1% say there is no chance to vote for New Democracy, while the corresponding rates for SYRIZA and KINAL are 57.9% and 70.4% respectively.
The survey was conducted on a sample of 1003 people, between 22-30 March 2021 with telephone interviews./ibna