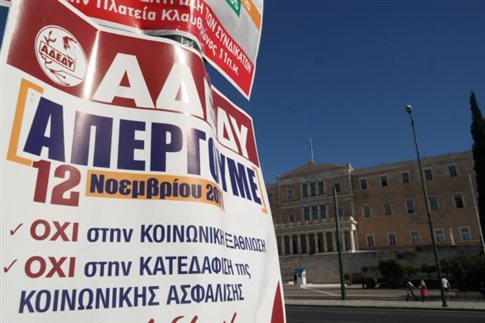 Athens, November 12, 2015/Independent Balkan News Agency
By Zacharias Petrou
The first general strike since Syriza came to power for the first time last January will go ahead on Thursday as talks between the government and the "quadriga" of lenders continues in Athens.
The strike has been called by the main public and private sector unions, ADEDY and GSEE with most public services coming to a halt on Thursday. Pharmacists, doctors, teachers and bank employees will also walk off the job.
Meanwhile, the unpopular prior actions demonstrators will protest against are set to be pushed through parliament at the end of the week as the government and Greece's creditors edge closer to wrapping up the bailout program review.
Economy Minister Giorgos Stathakis said on Wednesday he believes that an agreement will be reached with the institutions by Saturday, adding this would have a positive impact on the recapitalization of Greece's banks.
Stathakis was speaking after a five-hour meeting with representatives of the institutions at a hotel in central Athens, in which Finance Minister Euclid Tsakalotos also took part.
He said there is good will between the two sides which have come closer on all pending issues and that if an agreement is reached, the Eurogroup Working Group (EWG) will convene on Sunday or Monday to approve it. This will allow the disbursement of a sub-tranche of 2 billion euros.
"On Monday all issues will be finalized and at the Euro Working Group there will be a decision to release the installment and the funds for the banks," government Spokeswoman Olga Gerovasili told state broadcaster ERT.
According to government sources, the two sides are close to agreement on one of the thorniest issues being discussed which is how non-performing loans will be dealt with. It is now considered likely that protection will be provided to primary home owners, based on a home valuation of between 180,000 and 200,000 euros, buffered by a series of income-based criteria.