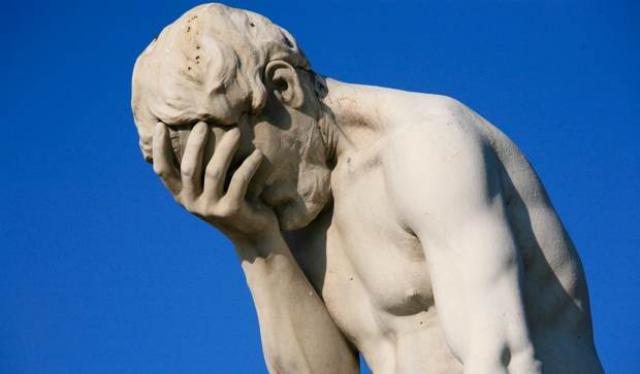 A latest Eurobarometer survey showed Greeks are the most pessimistic citizens in the European Union.
A staggering 98 percent (up one percentage point from the last poll) said the economic situation in Greece is "bad". The equivalent percentage in the 28-member EU stands at 51 percent, down 5 percent compared to the previous poll.
A total of 86-91 percent of citizens in the Netherlands, Luxembourg, Germany, Sweden and Denmark consider their current situation in their national economies to be good.
The majority of Greeks (61 percent) also believe that employment prospects in the country will get worse, while 80 percent said they don't expect their personal employment situation to improve.
At a personal level, 69 percent of Greeks saw their finances as being in a bad state. An average of 27 percent of EU citizens said their finances were bad. Meanwhile, 49 percent of Greeks also consider their jobs to be bad too, while just 22 percent of EU citizens made the same statement.
Asked about the level of trust they have in certain institutions, Greeks appear to be the most distrusting in the EU. Specifically, 76 percent said they did not trust the European Union (compared to 47 percent in the rest of the EU); 88 percent said they did not trust their government (57 percent in the rest of the EU); and 86 percent said they did not trust their national parliament (67 percent in the EU).
Now in their third bailout program and following years of austerity, 85 percent of Greeks believe their voice in the European Union does not count. This is the highest figure in the Union, followed by Cyprus (74 percent), the Czech Republic (73 percent) and Estonia (70 percent).
According to the Eurobarometer, 47 percent of Greeks have a negative view of the EU with just 18 percent being positive and 34 percent maintaining a neutral stance./IBNA