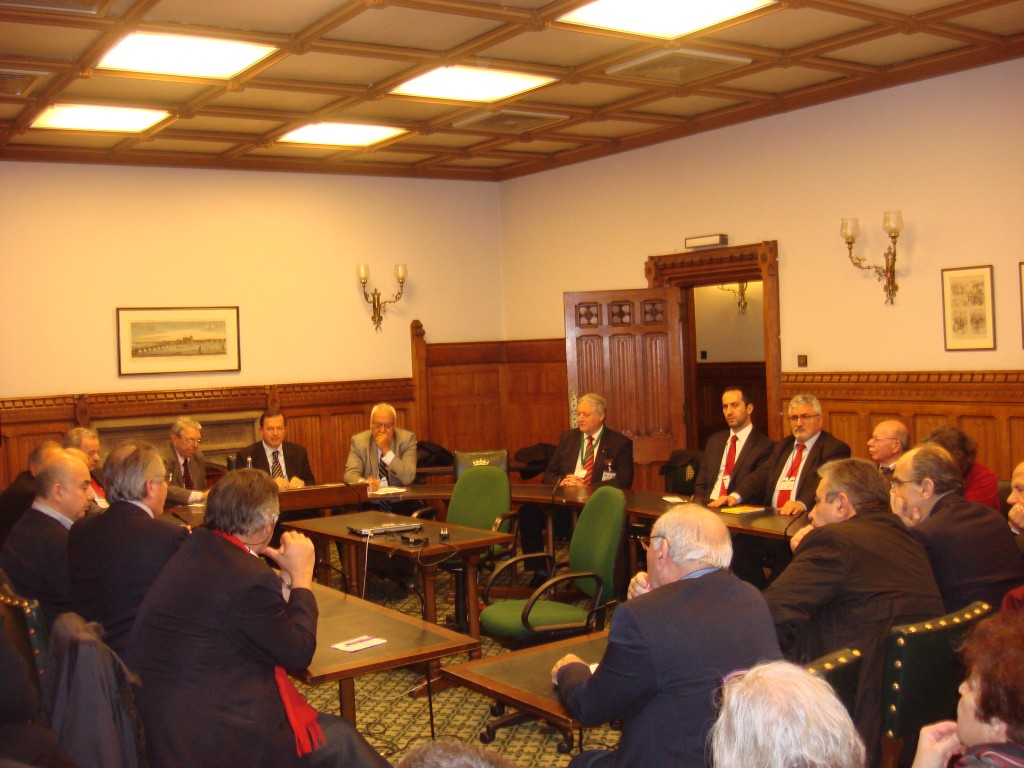 By Thanasis Gavos – London
Can the people of the two communities in Cyprus help achieve what has been eluding politicians for 39 years?
The 'United Cyprus Platform of the overseas Cypriot organisations' believes they can. An umbrella body comprising Greek and Turkish Cypriot organisations of the diaspora, the Platform organised a meeting during the week at the Houses of Parliament in London.
The aim, as Bambos Charalambous, Secretary of AKEL in Britain and one of the event's organisers said, was to have citizens from both communities unite their voices in calling for a successful outcome of the new reunification efforts – a bizonal bicommunal federation based on the UN resolutions.
The Greek and Turkish Cypriot officials and the members of the audience in the packed Westminster Palace room were joined by a surprisingly high number of British parliamentarians.  One of the longest standing friends of Cyprus, Labour Party's Sir Alan Meale observed that such an occasion, bringing together members of the two communities, was "a breath of fresh air", while one of the most recent advocates of the island's reunification, Baroness Harris of the Liberal Democrats said that more than a shared identity, "what the Cypriots need is a shared future."
The role of the civic society as was discussed in the London meeting is twofold. First, to exert as much pressure as possible on the involved sides: "Leaders' talks are not enough, unless there is pressure from us," said Hasan Raif, chairman of the London based Turkish Cypriot Association for Democracy, the co-organiser of the event. Secondly, to become the breeding ground for confidence building measures that will make political negotiations smoother.
The Platform is leaning mainly on political parties and other formations of the left, so it is bound to be met with reservations by a portion of Greek Cypriot and Turkish Cypriot politicians and citizens, maybe even a large portion.
ut for the people that were gathered at that room it was a "historic" moment, when British parliamentarians addressed representatives of both Cypriot sides in a building which is a symbol of modern western democracy. And what made it special for them was that they shared a common vision and hope – to see their island united again.
The message of the night was appropriately and disarmingly passionately summed up by a young Turkish Cypriot student who was in the audience, when at the close of the event she eloquently spoke her mind: "For me, peace in Cyprus cannot be separated from reunification."