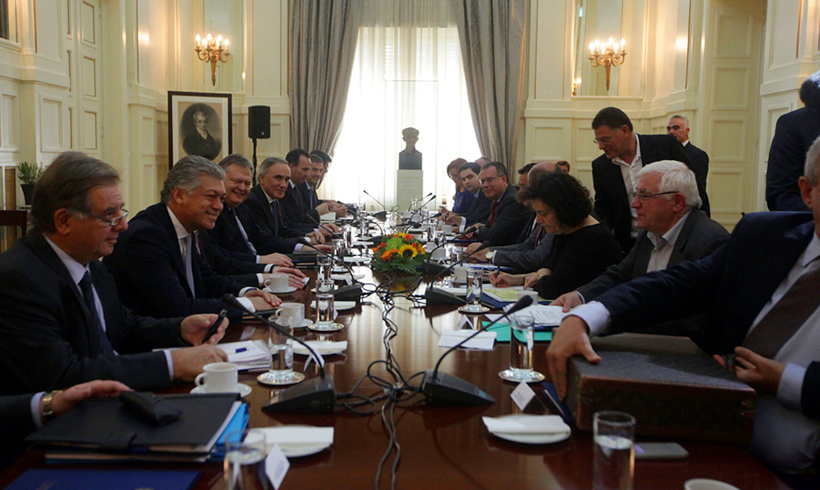 By Lefteris Yallouros – Greece
A meeting of the National Council on Foreign Policy was held in Athens on Monday, as tensions in the Exclusive Economic Zone (EEZ) of Cyprus are rising due to Turkish provocations.
Greek Foreign Minister Evangelos Venizelos said after the meeting that it was held in a "good and consensual climate." "I carried out a briefing on the entire range of foreign affairs with emphasis on the Cairo summit, which convened while a Turkish provocation was underway that prompted the reaction of the international community," Venizelos said.
He also referred to the upcoming Greece-Cyprus-Israel trilateral meeting between senior foreign ministry officials in the three countries. Venizelos stressed that the goal was to protect the sovereign rights of the Cyprus Republic and also end the provocation.
In light of this, and after consulting with Anastasiades and the Cypriot political parties during a National Council, they had agreed with Prime Minister Antonis Samaras that the scheduled dialogue with Turkey should not be disrupted, he added.
Meanwhile, a diplomatic effort is being made to defuse tensions triggered by Turkish provocations in the face of Cyprus's efforts to exploit the natural gas deposits in its EEZ. Turkish Prime Minister Ahmet Davutoglu will visit Athens in December to hold talks with Greek Premier Antonis Samaras, it was announced on Monday.
Davutoglu's visit comes after Greece, Cyprus and Egypt signed an agreement, the Cairo Declaration, on Saturday to cooperate more closely on a range of issues, including energy.
Evangelos Venizelos informed President Karolos Papoulias about the agreement on Monday, saying it was part of a systematic effort by the Greek government to demarcate its maritime zone.
"The major gain from the tripartite conference is the invitation that we have issued to all the countries in the region to accept the United Nations Convention on the Law of the Sea and to operate within its framework," said Venizelos.
According to Cypriot newspaper, "Fileleftheros", Turkey submitted its own proposal to the United Nations, offering to withdraw the seismic research vessel Barbaros from the Cypriot EEZ – provided Cyprus first suspends all oil exploration activities including offering any new tenders.
Athens and Nicosia have no intention of accepting such a proposal. Meanwhile, the Greek side maintains the Cairo meeting does not pose any threat to Turkey and it could potentially be extended in the future to include Ankara.