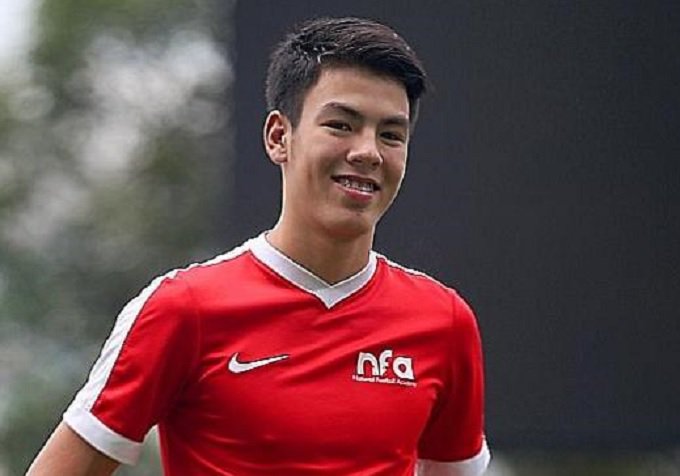 Born in the city of Kastoria, northwestern Greece, son of a Singaporean father and a Greek mother Vasileios Chua is the new rising star in Singaporean football.  He lived in Kastoria until he was 10 years old and then moved to Singapore with his family.
Now at 15, Vasileios is a National Football Academy (NFA) Under-15 striker whose talent and love for football have earned him a nomination for the prestigious New Paper Dollah Kassim Award, a prize given to young footballers who display not only excellence in the sport but also character.
This award could give Vasileios the opportunity to travel to Europe where he will be training in a European football club. At the announcement of his nomination, the athlete expressed his appreciation and his pride in being able to represent his country's national team.
The young footballer explained how he began to love football in an interview he gave to the New Paper of Singapore.
Vasileios Chua was only two years old when Greece won the Euro Football Cup, so he naturally does not remember much. However, growing up in Greece he became aware of the importance those football victories had for the people around him as the national football team was heading for the final.
From their reactions, Vasileios realized that the win really united the people and brought joy to all Greeks around the world.
In his everyday life, the Singaporean Greek teenager is a Secondary 3 student at Tanjong Katong Secondary School, who has to be strictly disciplined in order to combine schoolwork and intensive training.
He goes to football practice five times a week, so after school, there is very little time for rest or relaxation since school homework takes up most of his free time before and after training.
Vasileios is 1.80m tall and weighs 66 kg. He began his football career as a goalkeeper but changed into a forward three years ago. Because of his height, he feels people often overlook his technical skill. However, he said that a striker has to be technically sound since he cannot rely only on his height…/IBNA