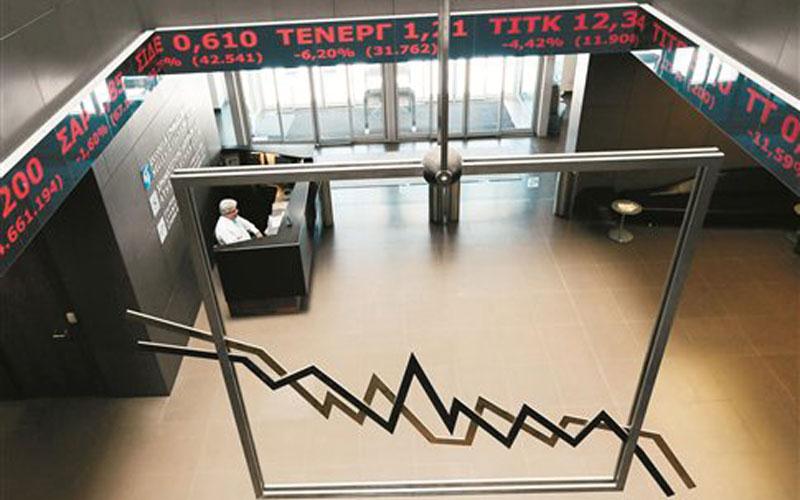 The Athens Stock Exchange has entered a downward spiral since Prime Minister Alexis Tsipras announced the adoption of a set of relief measures earlier this week.
At the end of Thursday's session, the General Index at the Athens Stock Exchange was down 1.94% to 728.62 points. The Large Cap (FTSE25) index was down 1.61% to 1,897.09 points and the banking index dropped 2.92% to 578.29 points.
In total 13 stocks enjoyed gains, 85 sustained losses and 26 remained unchanged. Turnover amounted to 53.4 million euros, up from Wednesday's 62.1 million.
Since the PM presented the fresh measures on Tuesday, the market returned to April-levels. Last Friday, the General Index stood at 774.37 points, before it shed over 45 points in the last few days.
According to market analysts, investors are taking into consideration the fact that Greece's creditors have not welcomed the measures announced by Alexis Tsipras, pointing out that they will have to be scrutinized thoroughly. The plans "may not be in line with commitments," one EU source told Reuter, adding that EU officials had raised concerns during a regular mission to Athens which ended on Wednesday.
Additionally, the upcoming elections are also considered to be negatively affecting the market as the political climate is expected to become tenser and more polarized. Sources added that an adverse international environment is also affecting local stocks as US President Donald Trump has threatened to unilaterally raise tariffs from 10% to 25% on 200 billion dollars of Chinese goods
Moreover, the deterioration in market sentiment for Greece is likely to delay plans for the issue of a new seven-year bond. It is also worth noting that the yield of the benchmark 10-year bond rose 2.8% to reach 3.441%, coming off 14-year lows of 3.285% last month. The five-year note saw its yield climb 4.5% yesterday to 2.36% percent, from a historic low of 2.171% in April./ibna