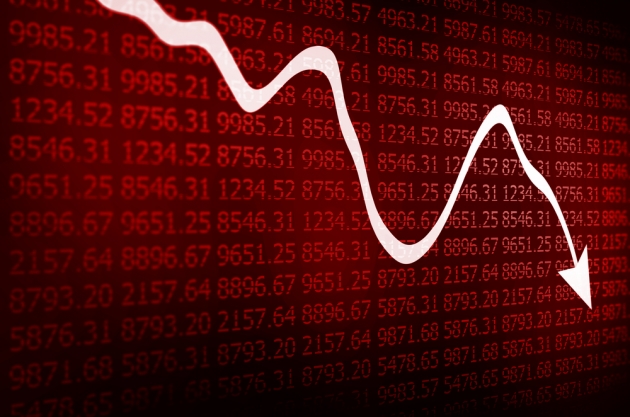 Athens, December 10, 2014 / Independent Balkan News Agency
By Lefteris Yallouros
Greek stocks sank 12.78% Tuesday in what was their biggest single-session fall since November 1987 as investors appeared concerned that the country is heading for a prolonged political crisis that will lead to general elections early 2015.
Greek banks fell sharply, with National Bank of Greece down 17.6% and Alpha Bank dropping 12.8%. Sovereign bond yields also shot up from 7.2% to beyond 7.75%.
The stock market came crashing down following the surprise announcement Monday evening that Greece's presidential elections are being brought forward to December 17.
The presidential election will take place over three rounds. In rounds 1 and 2 (Dec 17th and 22nd) the Government requires 200 out of 300 MPs which is extremely unlikely. In the final round (Dec 29th) they require 180 votes. Failure to elect a President by the existing parliament would lead to a national general election within 3-4 weeks.
Prime Minister Antonis Samaras on Tuesday confirmed the nomination of former EU Commissioner Stavros Dimas for president. The governing coalition currently has only 155 Mps and needs to find another 25 votes from a pool of independents and MPs from smaller parties to avoid an early general election.
Left-wing Democratic Left (DIMAR) announced Tuesday it will not be backing the coalition government's candidate for president while right – wing Independent Greeks (ANEL) also voiced opposition to the government's candidate. Several independent MPs (such as Paris Moutsinas, Chrysa Giatagana and Nicky Founda) also ruled out voting for Dimas.
Main-opposition SYRIZA predicts the government would fail to elect a new president, saying the snap poll was a decision "agreed with the 'troika', to cover up their plans to introduce new austerity measures and blackmail MPs into voting for them".
Prime Minister Antonis Samaras said Tuesday that "the presidential election has become a pretext to force early elections. So, while we have stabilized financially and finally entered a recovery period, clouds of political uncertainty started to gather once more over Greece.
"As was its duty, the government decided to remove this uncertainty and to fully restore political stability by accelerating the election for a president of the republic," the prime minister added.
In any case, as the stock market collapse showed, Greece cannot afford to plunge into political uncertainty for any period of time, short or long. The Greek premier appears to have gambled hoping that either MPs in the presidential vote or citizens in an early election will realize that and give him the chance to end the Greek bailout in February.
A government collapse followed by a SYRIZA victory in subsequent elections would complicate negotiations between Athens and its creditors and this is the card Samaras and his coalition government will play in weeks to come.